by Jennifer R. Lloyd (M.B.A. '16)
Discrimination. Income level. Access to health care. Occupation. Housing. Education.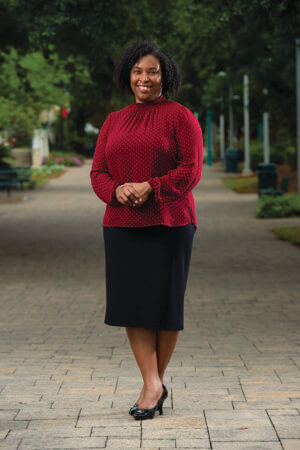 The COVID-19 pandemic has brought into stark view America's health disparities based on these and other factors outlined by the Centers for Disease Control and Prevention.
At no time in modern history has the need for public health expertise been more striking, nor has the call to rectify inequities in the nation's public health system been louder.
"It's just a prime opportunity to get students to understand how important the health of various groups of people is," said Assistant Professor of Sociology Sue P. Nash, Ph.D., whose expertise and courses will provide part of the framework for a new Certificate in Public Health launching in Fall 2021.
Nash will co-direct the new 12-credit hour certificate program — offered by the Sociology Department in the College of Arts, Humanities and Social Sciences — with Janet Armitage, Ph.D., the Chair and Associate Professor of Sociology who has pushed for the new certificate for several years.
"This certificate is important because it allows students to connect what's happening in their families to what's happening in their city, San Antonio, to what's happening beyond them," Nash said.
She worked in public health before earning her Ph.D. in sociology, which she said extended that interest because sociology is the study of groups and public health efforts require analyzing the health of groups as well. For instance, she studied intimate partner violence and, through sociology, gained the tools to understand the public health issues she had observed.
Her students often start "boxed in" to understanding their own personal lives. Through her courses, she helps them situate their perspective in a broader social context to recognize they are not alone in these issues common to groups of people, families and communities.
"Take obesity as an example. Students may think, 'I'm obese because I'm not eating well,' or 'That's just how my family is.' But let's go beyond that to what's happening in your community," Nash said. "Do you have access to fresh produce? Is there fast food surrounding you and you don't have access to farmers markets? Those factors will really impact your personal health."
Diamond Estrada, a senior Sociology major, was so hooked on the topic that she's begun an accelerated Master of Public Health at the University of Texas Health Center at Houston too.
"With everything that's going on recently, I felt like it was necessary to get into the health industry," said Estrada, who aspires to better connect those with less income with public health resources. "My family has always dealt with health issues as well, so that was kind of an initiative to get started."
For Nash, sharing the understanding of people from different age and background groups with students like Estrada prepares them to serve the public through cultural competence.
"Public health is in essence that — educating for service," Nash said. "This certificate will reinforce the need to love and respect people."