Breaking into the world of esports has been a challenge for women. Leadership opportunities in the rapidly growing industry often are not available or the barriers are too steep. At St. Mary's University, Kaitlin Teniente found her chance to become the first head coach — leading the new varsity Esports Program.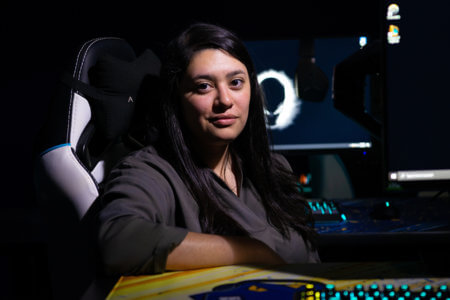 Teniente, a San Antonio native, is among the first women to lead a collegiate esports program across the country.
Early in her esports participation as a competitive League of Legends player, Teniente saw first-hand the challenges women face in the male-dominated landscape. Fellow male gamers would tell her not to be aggressive when she offered feedback during the mostly male-led student club meetings or went against the "way things have always been" in esports. Rather than deter her, the experiences propelled Teniente into leadership opportunities beyond the level of student clubs.
Esports teams participate in competitive, organized gaming commonly played in teams that vary depending on the game. Team members may all be present in an arena during competition, but often players connect online to compete remotely. At St. Mary's, each player locks into one game: Fortnite, League of Legends, Overwatch or Rainbow Six Siege.
Teniente got her first taste of coaching as a student at the University of Texas at San Antonio when she and a classmate ran their own events for players of all skill levels. Promoting a zero-tolerance policy on toxicity, she helped coordinate five esports events in conjunction with the school's club — each event yielding more than 40 players.
"My vision is to see the Esports Program at St. Mary's be more than 'competitive video games,'" she said. "I want the program to be a source of pride for both students and the University."
For players especially, she said, "I want them to walk away from the program having a positive and memorable college experience where they felt included and valued."
"This is not just about gaming," said St. Mary's University Director of Athletics Robert Coleman. "Engaging students in esports can help them build critical-thinking skills, encourage teamwork and innovation, and promote self-directed learning."
For senior Forensic Science (Criminology) major and student-athlete Teresa Lee, being a part of the Esports Program is about competing and connecting. After injuries ended Lee's basketball career, her competitive spirit stuck with her, turning her attention to competitive gaming playing Fortnite.
"When I received an email about St. Mary's adding an esports program, I thought, 'This is my moment to prove to myself and my family I can play a collegiate sport,'" Lee said.
Lee hopes to build lifelong connections and help lay the foundation for future generations of Rattler Esports athletes.
When named the first St. Mary's Esports Head Coach, Teniente quickly realized the lack of a gaming community on campus. She saw her new position as an opportunity to build that community from the
ground up.
Teniente hopes that growing community will bridge new friendships and an everlasting love for the sport.
"As we continue building the community, we want it to be inclusive and diverse," Teniente said. "We want everyone to feel like they have a place here, regardless of whether they are going to be a competitive gamer."