by Jennifer R. Lloyd (M.B.A. '16)
Hold on to your tail … and wings.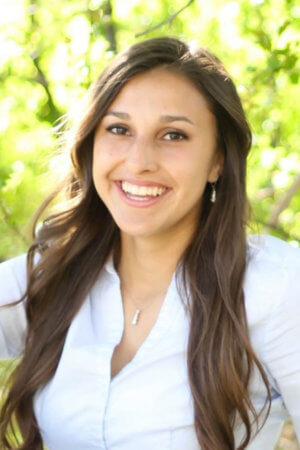 Juan Ocampo, Ph.D., Associate Professor of Mechanical Engineering, is leading two projects focused on the structural integrity of aircraft and nuclear facilities, drawing students into the research process.
Since 2007 with the Federal Aviation Administration and since June with the U.S. Air Force, Ocampo has been developing methods to make decisions on aircraft safety. His team is also working on a project with grant funding from the National Nuclear Security Administration to introduce minority and first-generation students to the nuclear engineering field and structural integrity applications.
Mechanical Engineering Senior Adriana Smith from Alamogordo, New Mexico, said Ocampo encouraged her to apply for a student research assistant position on nuclear security projects, which opened her up opportunities in the nuclear science industry.
"Being involved in research has definitely changed the trajectory of my future," Smith said. "I now, through my involvement in research, plan on pursuing graduate school."
Growing up in Medellín, Colombia, Ocampo dreamed of designing planes.
"We have a small airport in my city where I would see airplanes land every day," he said. "I was like, 'Man, that's so cool. I want to design aircraft someday.'"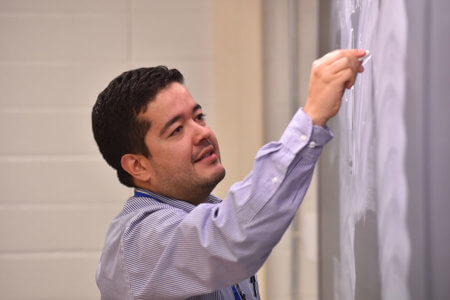 He moved to the U.S. to work in the aerospace industry and began working on the FAA project focused on the general aviation fleet as a master's student in 2007. Aircraft in the general aviation fleet include private or corporate planes or those used for instruction. Many of those planes were designed in the 1960s, long before today's requirements. About 100,000 planes that are on average 40 years old are still flying in the U.S. today and about 240,000 around the world.
"The FAA and the different authorities around the world are looking at whether these airplanes have fatigue issues," Ocampo said.
Just like a metal paperclip bent too many times will fail, the material of these aircraft begins to fail with extended use. But the FAA needs a tool to determine whether a fatigue issue is specific to one aircraft or is likely to extend to the fleet.
Ocampo digs into structural integrity by analyzing the probability of fatigue and damage tolerance. In partnership with the University of Texas at San Antonio, Textron Aviation and NuSS Sustainment Solutions, he has created software that allows the FAA to simulate the variations of the fleet — such as how people fly and where — to determine risk levels for specific aircraft models. That way the FAA can determine if an issue is just with a single aircraft or is more likely to be a fleet-wide problem that requires the grounding and inspection of many similar aircraft.
More recently, the Air Force also became interested in using a similar tool to analyze the safety of its planes. A December study from the National Commission on Military Aviation Safety discussed the challenges of extending aircraft usage beyond their planned service life, stating that "parts that were designed to last the originally planned life of the aircraft begin to fail."
Using data from retired fighter aircraft wings provided by the Air Force, Ocampo and his students are creating a digital twin model of the real planes to drill down to individual aircraft tracking and use software to anticipate fatigue damage in the structure. That could allow the Air Force to inspect individual planes rather than the whole fleet, reducing costs and increasing fleet readiness.
"The benefit of this new research is moving from fleet-wide risk decisions into individual aircraft risk decisions," he said. "This is going to prevent airplanes having metal fatigue in the air. You don't want an airplane to lose a wing or the empennage, which is the tail, during flight."
"We are avoiding airplanes falling from the skies," Ocampo said.
For the project, several students are adding to their résumés while learning computational mechanics (aka coding) and 3D printing to test materials.
Mechanical Engineering senior Scott Siler from Katy, who has worked with Ocampo on the aircraft project, said the research has taught him "a good deal about working in a team, especially in a virtual environment."
"In the classroom, I know what concepts I am practicing or learning about, but in research, there is no textbook to guide me," Siler said. "By having a part in this, I have had to practice learning from scratch, so to speak, and I have found that to be a very practical skill."
Through the projects, Ocampo said he provides close mentoring for his students' career development or graduate school preparation.
"When students get involved with research, that helps them gain an excellent education," Ocampo said.