by Melanie Skaggs (M.A. '02)
Speaker, writer, pianist, performer, traveler and polyglot.
Claude Ducloux (J.D. '76) of Austin is all these things but, most of all, he is the "Dear Abby" for lawyers who need advice on handling sensitive situations. He educates more than 900 attorneys each month through a legal education webcast. 
"I always try to leave a moral lesson to promote the rule of law," Ducloux said.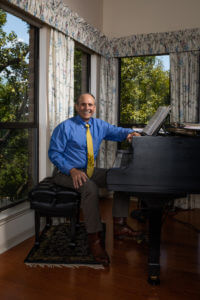 Whether in the courtroom or singing with the Bar & Grill Singers – a group of Austin attorneys who perform musical satire across the nation – Ducloux is center stage like his mother, a well-known opera singer; and his father, an opera director, symphony conductor and pianist.
"My whole life, I have felt I was spinning three plates up on sticks," Ducloux said.
Nicknamed "Zip" as a kid, Ducloux has always liked moving fast. He completed his bachelor's degree in three years, served two years in the U.S. Army and graduated from the St. Mary's University School of Law a semester early.
"There's never been an hour with enough days in it," Ducloux joked.
During law school, Ducloux balanced work, studies and special programs. He participated in mock trial and reached the semifinals in moot court as a first-year student. He also worked as a piano player to earn extra money, tickling the ivories five nights a week at the Old San Francisco Steakhouse.
"I appreciated my experience at St. Mary's. I have heartwarming, wonderful memories," said Ducloux, who served as president of the St. Mary's University Law Alumni Association.
Today, Ducloux runs a private practice and teaches continuing legal education courses as the director of education, ethics and compliance for AffiniPay-LawPay. Of his many accolades, one of the most significant has been receiving the State Bar of Texas' highest honor, the 2011 Gene Cavin Award for Lifetime Achievement in Legal Education.
"Claude is the consummate lawyer: always articulate, perceptive and engaged," said Vincent R. Johnson, J.D., LL.D., Interim Dean of the St. Mary's University School of Law. "While he has excelled in Texas courtrooms, his real claim to fame is the work he has done to champion the cause of high ethical standards in the legal profession.
Claude is the epitome of 'the good lawyer'."