by Robin J. Johnson (B.A. '11, M.A. '13)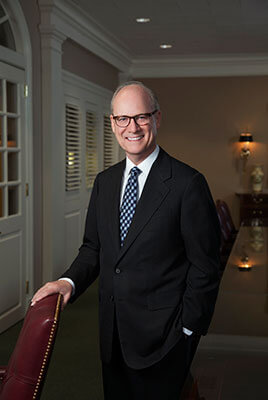 Martin Beirne (J.D. '69), Chairman of the St. Mary's Board of Trustees, has significantly impacted the future of St. Mary's University and the School of Law — twice.
His first contribution came as a law student, as one of the founding editors of the St. Mary's Law Journal in 1969. The second was the $1 million gift in September that he and his wife, Kathleen, made to the St. Mary's Defining Moment Comprehensive Campaign, endowing the Beirne Director for the Center for Catholic Studies.
The gift will provide leadership for the Center as it examines the Catholic Intellectual Tradition. Students of all ages and Catholics from across Texas will have the opportunity to deepen their faith by exploring the fields of theology, philosophy, the sciences, social policy, law, the arts and culture and their intersection with Catholicism.
"It's important that we have a sense that education is not only about the person and their financial interest," Beirne said, "but the person as a whole and what it means to be a good person."
Beirne's desire to give back was shaped by his experiences as a law student.
In the early stages of law school, Beirne realized "all successful law schools had a law journal." With encouragement and support from then-Dean Ernest Raba (B.A. '34, LL.B. '37) and University President Louis J. Blume, S.M., Beirne and his classmates founded the St. Mary's Law Journal, which kept the School of Law competitive.
It was an experience that had a "monumental effect" on Beirne, who went on to receive numerous professional honors as a practicing attorney, including being named a "Lion of the Texas Bar" by Texas Lawbook.
"It demonstrated the school's faith in its student body to turn the law students loose on that type of endeavor," he said of the journal, which celebrates its 50th anniversary in 2019. "I'm very proud of the fact they invested that kind of confidence in us.
"And that's what St. Mary's gave me: the confidence, as well as the full educational opportunity, to become a lawyer."
For more information on the Defining Moment Comprehensive Campaign, visit the campaign website.