by Jasmine DeLeon (B.A. '11, M.A. '15)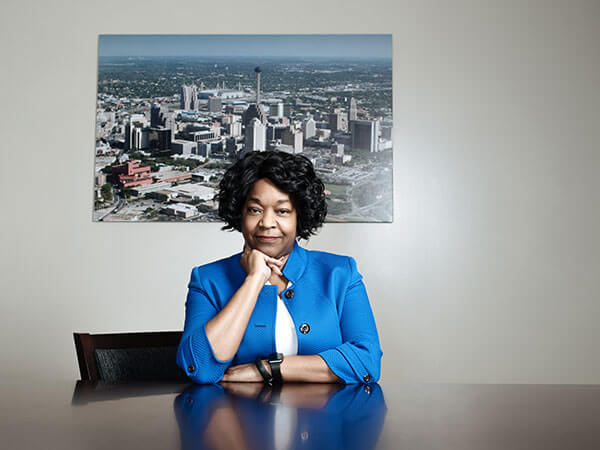 Paula Gold-Williams believes in being ready to take on whatever challenges life throws her way. She has guided her career with a balance of careful preparation and a willingness to take chances, and earlier this year, it really paid off.
Gold-Williams (B.B.A. '84) took over as interim CEO when her boss left CPS Energy in fall 2015. In July 2016, she was named the permanent president and CEO for what is the largest publicly owned gas and electric utility company in the United States.
As head of one of the largest utilities companies in the nation, she oversees almost $11 billion in assets, $2.5 billion in annual revenue and about 3,000 employees. To say it's a big job is an understatement.
"I don't run CPS Energy," Gold-Williams said. "It's the 3,000 employees who provide service every day. My job is to support them. CEOs have to be cognitive that we are not the core. The core is every single person doing their job.
"If you keep 3,000 people focused, you will be successful."
A native of San Antonio, Gold-Williams graduated from St. Mary's University with a Bachelor of Business Administration in Accounting. She started off as an auditor, but quickly learned that she was the kind of businesswoman who wanted to help figure out new strategies and how to move forward.
"I realized I didn't like coming in at the end of the year," she said. "I wanted to be there at the beginning, so I jumped out of the auditing world."
From there, she went into accounting, where her résumé included a who's who of San Antonio companies: Time Warner Cable, Luby's (now headquartered in Houston) and finally CPS Energy, to name a few. Working in a variety of industries has helped Gold-Williams understand how different kinds of businesses work and how she can contribute to them.
"I've audited banks. I've worked for restaurant companies, computer companies, a lot of regulation of communication companies, and the common thread still is: How does that company add value and sell something of value to customers?"
Each of Gold-Williams' previous roles played a vital part in her journey to the top. With a desire to continually learn, every job role, every project opportunity and every risk led her to the leadership role she holds today.
Not being perfect gives you the opportunity to make that job your own. Don't let perfection prevent you from taking on an opportunity.
"Your roles are as exciting as you make them. When you have a suggestion and you think you can make a system better or you can train a group of people or create a new structure that makes you more efficient, those ideas lead to new opportunities in your career," she said. "You won't have it all figured out the first day you get there, but you will be able to grow constantly by coming to work today — every day — with your head in the game."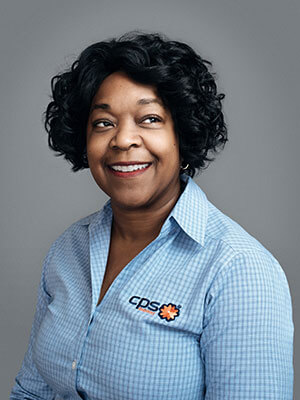 As a woman running a large company very much in the public eye — and a minority woman, at that — Gold-Williams is aware that she is a role model for other women and girls. However, when she first entered the business world, there were few women in public accounting for her to look to as examples.
"It's not that they were never there; it's just that they weren't there in great numbers," she said. "They weren't CEOs of companies, and they weren't partners. I have actually watched that change."
To her, the business world is still challenging for women, but nothing that can't be overcome.
"I think (it requires) learning how to be successful, learning from your mistakes and not thinking that you have to be perfect, but letting yourself be creative enough and able to take on risks," she said.
The St. Mary's alumna found that risk-taking is what makes the difference: "Take calculated risks, think through problems, think about the 'what-ifs' — whether you are a man or a woman."
However, Gold-Williams encourages women in particular to take calculated risks.
"Women want to be more sure of their decisions and (it's) more challenging to take on risks," she said. "When that job description comes out, women may want to be a perfect fit. And I tell them, you have to be a good fit, but you don't have to be a perfect fit. Not being perfect gives you the opportunity to make that job your own. Don't let perfection prevent you from taking on an opportunity."
If there is anything Gold-Williams has learned, it's to never turn down an opportunity. In her 12 years at CPS Energy, she worked her way up by saying "yes" to the opportunities presented to her.
"My philosophy is: Just keep learning," she said.
About Paula Gold-Williams
In addition to her Associate of Fine Arts from San Antonio College and Bachelor of Business Administration in Accounting from St. Mary's University, Gold-Williams has a Master of Business Administration. She is also a Certified Public Accountant and Chartered Global Management Accountant.
Gold-Williams is chair of the Advisory Committee of Executives for the Greehey School of Business and continues to give back to the St. Mary's community. She serves on numerous boards, including public television station KLRN's board of directors. She is an advisory trustee for Southwest Research Institute and FM Global, and is a member to the San Antonio Medical Foundation.