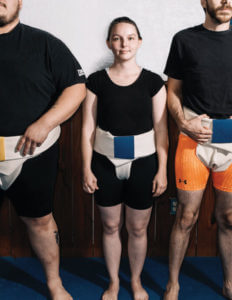 Think you know what a sumo wrestler looks like? Think again.
by Andrew Festa
Jessica Brower has, perhaps, the best icebreaker in the history of conversation. The diminutive St. Mary's University senior tells people, quite matter-of-factly, that she's a sumo wrestler.
Naturally, they think she's joking.
"Everyone's like, 'Oh so you wear the big, inflatable fat suit?' And I'm like, 'No, no, no —a real sumo wrestler,' " said Brower, who has received more than one surprised look in response. "They're like, 'You're so little.' "
This is no hobby; she's serious about it. The San Antonio native has been sumo wrestling for four years and was on the U.S. team in the 2015 Sumo World Championships in Japan. Teams of four men and four women from about 70 countries competed. She wrestled in the open weight division and finished in eighth place.
"A lot of people have the misconception that sumo wrestlers are just big, fat people who charge at each other," Brower said, "but in order to be a serious contender it's a lot of hard work and it's a lot of working out."
Her parents were concerned when she and her younger sister, Kassandra, told them they'd taken up sumo. After mom and dad's initial injury fears were put to rest, they quickly became supportive and now travel with their daughters to tournaments.
Brower said she's lost count of the number of medals she's won, and she moved from blue belt to brown this spring. In December, she will test to become the first female black belt sumo wrestler in the country.
She hasn't decided where her Forensic Science degree will take her after graduation, but she does plan to keep sumo wrestling.
"It's really fun. It's a good workout, and it's a great way to keep in shape," said Brower, adding her fellow competitors are a genial group. "I don't know that you'd expect a sumo wrestler, or someone who identifies as that, to be friendly. But everyone is usually very welcoming, at least after the tournament."
"During the tournaments, everyone is just staring each other down," she said with a smile.