Alum has traveled to nearly 150 countries. Top that.
by Gina Farrell (M.P.A.'11)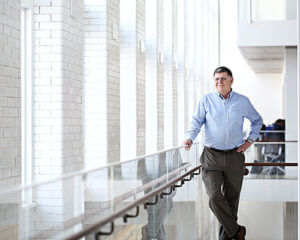 Charles Merkel's lifelong fascination — some might call it an obsession — with travel can be traced back to a Christmas gift he received more than 50 years ago.
It was a shortwave radio, which he used to listen to the sounds from faraway lands. He remembers hearing Big Ben strike the hour from the other side of the Atlantic and goings-on in Moscow's Red Square trailing from the speaker. He felt transported.
As soon as he was able, Merkel brought his childhood dreams to life. He graduated from St. Mary's University in 1970 with a degree in Economics and a sole focus on saving money to travel the world. In September 1971, Merkel had $3,000 and an around-the-world airline ticket, and he spent the next 16 months hopping from one country to the next: Iran, Iraq, Syria, India, Thailand, Afghanistan, Turkey, Egypt.
That whirlwind trip was the first of many journeys that have taken him to nearly 150 countries. He was in the Middle East just after the start of the Arab Spring. He has stayed with missionaries in West Africa. On one trip, he met a doctor who was at the infamous Hotel Rwanda. In Port Au Prince, he stayed in the guesthouse of a religious group running a home for runaway kids. While in Afghanistan, he was asked to join a circus.
(He declined.)
"After a while, travel is not just what you see, it's the people you meet," Merkel said.
With so many countries under his belt, Merkel is a member of the Travelers Century Club, which requires members to have visited at least 100 countries. He's a fifth-generation piano tuner, and the flexibility of owning his own business allows him to set his schedule. He works about eight months of every year and travels the other four.
He jokes that to travel so frequently, "You either have to have a lot of money or a lot of time."
And Merkel has made it a priority to have plenty of time.
On his next trip, Merkel will be able to cross off a few more South American locales: Paraguay, Argentina, Chile and Easter Island.
"My favorite trip is always the one that I just got back from," he said, "until I have my eye on somewhere else."