Janet Armitage, Ph.D.
Chair of the Department of Sociology
|
Associate Professor of Sociology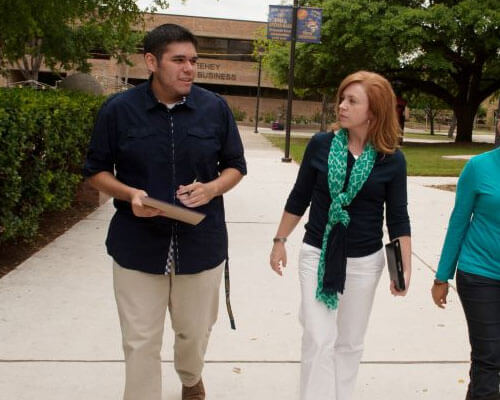 Departments
Programs
Education
Ph.D., Southern Illinois University at Carbondale
M.A., Illinois State University
B.A., Marquette University
Courses
Introduction to Sociology
Sociological Research
Qualitative Research
St. Mary's Core Curriculum
Upward Bound Summer Bridge Program
Academic Interests
Research Methods
Social Inequality
Race and Ethnicity
Sociology of Health
Sociology of Religion
Biography
Janet Armitage, Ph.D., joined the Department of Sociology at St. Mary's University in 2003 with a Ph.D. in Sociology from Southern Illinois University. She became Chair of the program in 2009, and has been a faculty member of St. Mary's University for thirteen years. Dr. Armitage remains committed to liberal arts education. She advocates for St. Mary's students to become well-rounded graduates who deliberately develop communication, cultural competency, and analysis skills for 21st century complexity, diversity, and change. Her research interests include applied research methods, social inequalities, and race and ethnicity. Much of her current research focuses on either course design and research skill development or the influence of demographic statuses on micro-social interactions. She is currently working on an applied workbook for qualitative research skill development and practice.
Armitage has been married to her husband, David, for fourteen years and has two sons. She enjoys outdoor activities with her family and dogs, and remains a fan of the Bears, Blackhawks, and Cubs.
Publications
Articles in TRAILS, The American Sociologist, Journal for the Scientific Study of Religion, Qualitative Research
Service
Member of the St. Mary's University Institutional Review Board; former Council Member with Texas Higher Education Board, Undergraduate Education Advisory Committee; and Executive Council Member with Southwestern Sociological Association (2008 – 2016)
Recent Awards
2011 Northside Independent School district (NISD) Community Partner of the Year
2012 St. Mary's University School of Humanities and Social Sciences Distinguished Faculty Award for Excellence in Teaching