About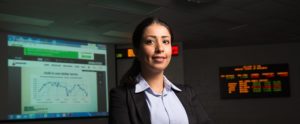 The Department of Finance and Quantitative Management at the Greehey School of Business prepares students for fulfilling careers in which they can make a difference in the lives of individuals and in the success of companies. At the undergraduate level, the Department of Finance and Quantitative Management offers a B.B.A. in Finance and Risk Management.
"The Finance & Risk Management program at St. Mary's transforms students into high caliber professionals. I was provided the tools and capabilities to take a risk-centered approach to finance, which ultimately allowed me to achieve my goal of being a financial analyst at a Fortune 500 company." – Rogelio Hernandez (B.B.A '15)
Student-managed Portfolio
One example of the innovative and hands-on approach of the Greehey School's Finance and Risk Management program is the student-managed investment portfolio. Finance and Risk Management majors have the opportunity to manage a real $1.9 million investment portfolio. Management of the fund takes place in a simulated trading room in the Albert B. Alkek Building. Numerous Bloomberg computer terminals are available across campus for student certification and research.
Programs in the Department of Finance and Quantitative Management