You can trace Professor of Law Chenglin "Gary" Liu's interest in public health back to his early days researching organic foods. Now, he dedicates his career to academic research and learning.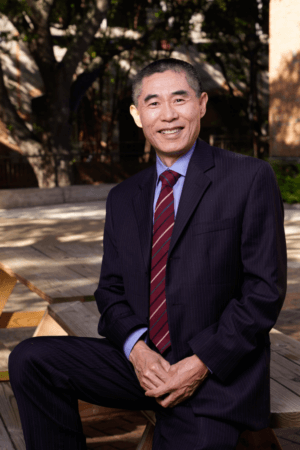 "During the SARS epidemic in 2003, I was concerned about my parents' and friends' health and safety," said Liu, LL.M., J.S.D. "I did extensive research and completed my first book, Chinese Law on SARS. Since then, I have been writing on public health law and regulations, including drug and food safety and pandemic-related issues."
A professor at St. Mary's University School of Law since 2007 and the Katherine A. Ryan Chair for Global and International Law, Liu began his legal education in China before meeting School of Law Professor Vincent R. Johnson, J.D., LL.M., LL.D., in 1998.
Johnson, then a Fulbright Scholar at Renmin University in Beijing, met Liu, then a visiting scholar at Renmin. Johnson introduced Liu to St. Mary's, where Johnson had been teaching since the '80s.
Johnson encouraged Liu to continue his education at Lund University in Sweden. In the early 2000s, Liu came to the United States, earning his J.S.D. from Washington University School of Law in St. Louis in 2005.
Where our food comes from
In the early 2000s, Liu began focusing more on epidemic-related drug safety, accessibility and food-related regulatory law — topics he'd later research. He said his findings at the time were enlightening yet disappointing.
"With the development of globalization, it's difficult to find the origin of our food," Liu said. "It's very likely the shrimp you just purchased from a large chain grocery retailer were imported from another country. Unfortunately, how those shrimp are regulated is entirely unknown."
This research fascinated Liu, inspiring him to learn more about pharmaceuticals and the source of the ingredients of drugs. He also noted the challenges of the Food and Drug Administration — limited budget and staff, and intense political scrutiny as a regulatory agency.
"I tell students that's what food regulation is about. From a comparative view, they can understand the law."

Chenglin Liu
"You pay $5 for a pound of shrimp, and you entertain your guests," Liu said. "You and your guests are all happy and oblivious to the fact that excessive antibiotics may have been used in the farming process. It is understandable that the public doesn't fully appreciate the value of government regulation, especially when this would, ultimately, increase the cost for both grocers and consumers."
Liu enjoys sharing this research with students, saying the comparison of law to real-life scenarios, such as food regulation, makes the understanding more in-depth.
"I tell students that's what food regulation is about," Liu said. "From a comparative view, they can understand the law."
Epidemic-related license sharing
In the article, Liu wrote about intellectual property rights and the challenges of developing countries to access medicines and technologies previously protected under the General Agreement of Trade and Tariffs.
He explored how Pfizer Inc. shared its patent of Paxlovid, an antiviral COVID-19 pill, with 95 low- and middle-income countries. Pfizer made the decision to share the patent for little to no fee to provide the countries with access to potentially life-saving medicine under a voluntary licensing agreement with the international public health group Medicines Patent Pool. "By doing this, Pfizer was able to strike a balance of making sure its patent was well protected while ensuring the patented product would not end up in the countries that were ineligible for the relief," Liu said.