Walking into the St. Mary's University School of Law's Raba Building, it's easy to get distracted by the numerous trophies demanding your attention as you make your way through the entrance.
Those awards, earned by the School of Law's Advocacy Program, represent tournament placements during the last 20 years — points of pride for a program that has produced national champions while simultaneously preparing law students for the rigors of trial.
Advocacy programs give law students real-world experience by allowing them to practice in a courtroom setting before mock judges and juries and in other aspects, such as negotiations.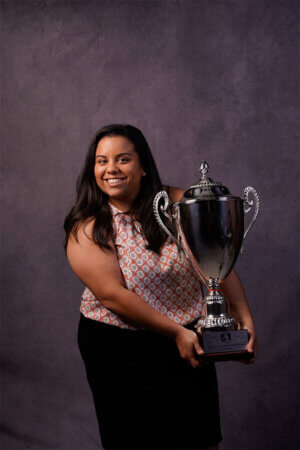 "These are the real skills you need when you become a lawyer," said Sophia George (J.D. '18), whose team won a national championship at the American Bar Association's (ABA) National Appellate Advocacy Competition in 2017. "You can learn all the theory in the world, but that does not prepare you for getting in front of a judge and arguing your case."
What the trophies don't show are the sacrifices law students make to perform in competitions, both virtually and in-person, across the country while also juggling classes, work and other obligations. For the School of Law students who can make the time, advocacy competition is their sport.
And St. Mary's Law continuously shines.
According to U.S. News and World Report rankings, the St. Mary's Law Advocacy Program was ranked 14th in the nation in 2022, while the ABA ranked St. Mary's 11th overall in 2022.
The National Team includes the Moot Court Team, the Trial Team, the Dispute Resolution Team and the International Jessup Moot Court Team.
An integral part of the advocacy efforts is the Board of Advocates, consisting of 20 law students who help develop students' oral and written skills while overseeing all in-house advocacy competitions.
A national audience also had the chance to follow the St. Mary's team when they participated in Class Action, a podcast hosted by MSNBC's Katie Phang, which highlighted three advocacy programs around the country over the course of a year.
A.J. Bellido de Luna, J.D., Assistant Dean for Advocacy Programs and Hardy Service Professor of Law, said the program's goal is to give real-world courtroom experience beneficial to a law career.
"If you're not afraid of going to trial, if you understand the mechanics of what is allowed in a courtroom, then it's going to help you in every other part of your career," Bellido de Luna said.
When going into competitions, Bellido de Luna said St. Mary's — despite rising in the rankings — is often perceived as an underdog. That only strengthens the students' resolve to perform well.
Even in defeat, St. Mary's students walk away with more courtroom experience.
"I've never made the win a priority, and I never will," Bellido de Luna said. "All of the coaches are teaching these students to be great advocates."
Ricky Poole (J.D. '90), one of the coaches for the moot court team, came back to the team as a coach after being asked to do so by the late Professor of Law L. Wayne Scott, J.D. Though Scott died in September 2022, his legacy lives on through the negotiations competition named after him and his wife, Maxine Scott.
Poole echoed similar sentiments about performance, saying the fact that law students get to present arguments in front of real judges, such as the justices of the Texas Supreme Court, during one competition is beneficial to a future attorney.
"There are practical skills you take away from this program," Poole said. "It's really gratifying."
"These are the real skills you need when you become a lawyer. You can learn all the theory in the world, but that does not prepare you for getting in front of a judge and arguing your case."

Sophia George (J.D. '18)
The Hon. Beth Watkins (J.D. '02), Justice on the Fourth Court of Appeals and Practicing Faculty at the School of Law, said coaches like Poole, who also put in long hours, make the Advocacy Program special. Watkins was on the moot court team that took home the ABA championship in 2002 — the first time St. Mary's won the trophy — and she was recognized as the competition's best speaker.
She said when students put in extra hours at the end of their day, coaches stay behind to help them strengthen their courtroom skills and arguments. That mentality continuously helps them win championships for St. Mary's Law.
"I feel so proud to be a St. Mary's School of Law and moot court alumna," Watkins said. "I have tremendous gratitude for Ricky Poole and the time he and all the coaches have invested."
Genesis Salinas, a third-year J.D. student from Edinburg, came to St. Mary's wanting to be an immigration lawyer. But to best serve her future clients, she knew she had to arm herslef with more than just textbook knowledge.
Having spent her first year of law school online due to COVID-19, Salinas didn't hesitate to try out for the Advocacy Program when she moved to San Antonio in 2021.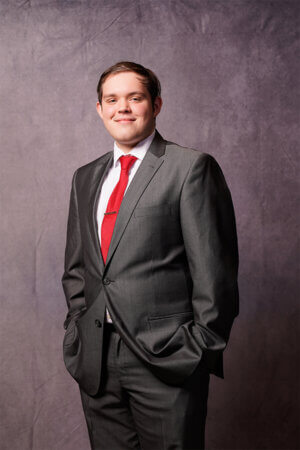 "I probably spent 12 to 15 hours a day, every day, reading during my first year," Salinas said. "When we finally got to do advocacy, I realized that I love law school, and I love advocating. I want to be in a courtroom."
"Advocacy is definitely not for the faint of heart," she said. "Law school is already challenging, but advocacy has been so rewarding."
Since joining the team, Salinas has grown confident in her ability to prepare for cases quickly and to think on her feet. She has also become more accepting of criticism, a skill she knows will allow her to keep growing.
Raven Peña, a third-year J.D. student who helped cement the National Trial Team's win at the National Trial League Competition in January 2022, said the Advocacy Program was the first time her classmates could interact in person after spending their first year of law school online.
Despite balancing the program, law school and her personal life, Peña said the relationship between her teammates became as close as family.
The Austin native said the Advocacy Program helped her examine cases for strengths and weaknesses and made her more open to new experiences.
"I'm not the most social person," Peña said. "I'm introverted, and I like to keep to myself. It's cool how much this program has helped me step out of my comfort zone."
As the first in his family to attend law school, Jayden Cool of Corpus Christi did not see himself as a trial lawyer. But with an undergraduate degree in Communications from the University of Texas at San Antonio, the second-year J.D. student, equipped with several years of speech and debate training, soon found himself thriving in the role.
Cool admitted he gives up any free time to school and the program but said support from friends and family helps him as he continues to reach new heights.
"I'm giving up a lot of my time so I can be a great lawyer and help out the people who need it the most," Cool said. "It's a lot of work, but I couldn't recommend this program enough."
Kathryn Cantu and Haley Harvey, both third-year J.D. students, co-captains of the Moot Court team and participants in the win at the 2022 Chicago Bar Association Moot Court Competition, found themselves on different life paths before St. Mary's.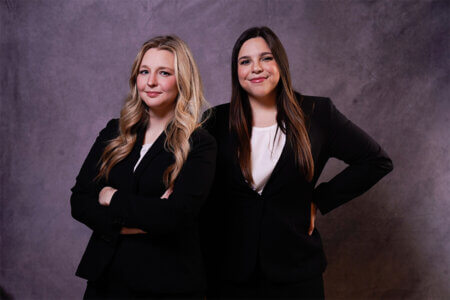 Growing up in Edinburg, Cantu knew she wanted to be a lawyer and began participating in mock trial as early as high school before coming to St. Mary's Law and throwing herself into the Advocacy Program.
Harvey, of Austin, majored in Political Science and Psychology at Texas A&M University before being directed to St. Mary's Law by staff at the law firm where she worked. Not aware of moot court until her first year of law school, Harvey is now one of the Advocacy Program's biggest supporters.
"As much as rankings matter, there's nothing that's going to prepare you more for the legal field than the hands-on training you're getting here," Harvey said.
Describing Harvey as her closest friend, Cantu said the teammates have been able to identify each other's strengths and weaknesses to improve their legal arguments.
Both said they hope their careers allow them to argue in appellate courts and become great attorneys.
"The reward in advocacy isn't how you place in competition," Cantu said. "It's knowing you advocated for your client to the best of your abilities."
Thinking back to 2015, Sophia George had no desire to join the Advocacy Program when she first started law school.
As a single parent, working and attending classes was hard enough. The thought of adding another commitment — especially one so demanding — was not a priority.
Convinced to try out anyway, George and her teammates went on to win the national championship at the American Bar Association's National Appellate Advocacy Competition in 2017.
Now an attorney at Husch Blackwell in Houston, George said championships look great on résumés, but the experience she gained helped her stand out when applying for jobs.
"The way you learn to analyze a problem, answer questions, formulate arguments, those are things that set you apart from the crowd," George said.
"It's going to be one of the best times of your life. You're going to work hard, but you're going to get much more out of law school because of it."

Robin Becker (J.D. '21)
Her accomplishments on the team became some of her proudest moments in law school, adding the program helps make students adaptable and ready for changes in opponents' strategies.
"You learn to be flexible. That's what makes a winner," she said. "That's why St. Mary's has had so many championships."
Robin Becker (J.D. '21) is grateful for the Advocacy Program and its ability to prepare lawyers.
Less than a month into her job as an assistant district attorney with the Bexar County District Attorney's Office, Becker became lead counsel on a case at the last minute due to an attorney's absence.
Becker said some of the nervousness came from the defense attorney having more than 15 years of experience. Despite being a new attorney, Becker said she performed well due to her National Trial Team experience.
"It was trial by fire," she said. "This was my first trial ever, and we were able to hold our own. Without the trial team, I wouldn't have any idea what to do."
Becker said learning to research and try a case is essential to being a lawyer, adding that advocacy coaches also focus on other aspects in court, such as approaching the bench and addressing opposing counsel.
The National Trial Team experience, Becker said, was one of the most integral parts of her legal education. She encourages law students to take advantage of what the program offers.
"It's going to be one of the best times of your life," Becker advised future students. "You're going to work hard, but you're going to get much more out of law school because of it."