by Allie Ann Grijalva (B.A. '21)
Toe touches, back tucks and high-air basket tosses signaled the very first practice this summer by recruits to St. Mary's University's newest varsity sport — STUNT.
STUNT is a four-quarter game version of competitive cheerleading. The first three quarters focus on a specific element of competitive cheerleading, said new STUNT Head Coach Jordan Wait-Parker. Teams reserve the last quarter for a routine showcasing all skills — partner stunts, jumps and tumbling, pyramids and tosses.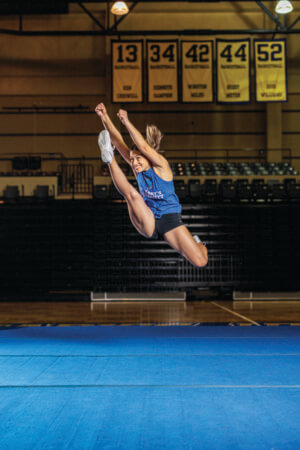 For Wait-Parker, coaching is more than a passion — it's a way to carry on deeply rooted family traditions. She began coaching at her family's cheerleading gym in Bloomington, Illinois, at just 15 years old.
As a competitive cheerleader during her youth, she followed in her grandmother's, mother's and aunts' footsteps. While competing in STUNT as a student-athlete at Davenport University in Michigan, she fell in love with STUNT and how it nurtures team camaraderie.
"The team culture I want to bring to campus is one of a supportive, family atmosphere," she said. "I want to showcase my athletes in the best possible way."
Each game begins with a coin toss, and the winner decides the skill to showcase in the first round. Teams simultaneously compete with pre-set routines. The winner of each round is awarded a point and selects the next skill.
With the unpredictable, fast-paced nature of the sport, team members must prepare for whatever skill they could be called to demonstrate. Games can last 45 minutes, much longer than traditional competitive cheerleading's two-and-a-half-minute routines.
First-year Communications Studies major and student-athlete Kailey Carder, a San Antonio native, grew up competing in cheerleading competitions hosted in the Alumni Athletics & Convocation Center's Bill Greehey Arena. Carder said having the opportunity to compete in the same space as a collegiate athlete feels like a full-circle moment.
"Whether you are looking for academics or athletics, your opportunities are limitless. There is a lot of support for people who want to break ceilings."

STUNT Head Coach, Jordan Wait-Parker
Wait-Parker also recruited Californian Riley Smith, a first-year Forensic Science major on the team.
"There's a special type of energy that you can feel on campus," Smith said about her first impressions. "Everyone wants to be here and is very selfless."
Wait-Parker said she admires the opportunities that the University provides to students.
"Whether you are looking for academics or athletics, your opportunities are limitless," Wait-Parker said. "There is a lot of support for people who want to break ceilings."