Then, twice a week for a year and a half, after grueling days of work, he attended three-hour evening classes and dove into historical research on a nearby Mexican American Little League team.
"There was limited rest. I had to find time on the weekends to do schoolwork and projects," Nerio said. "There were certainly days when I was overwhelmed."
Throughout the program, which Nerio began in Spring 2019, he served for three months as interim head coach for Women's Soccer.
In Fall 2020, Nerio graduated. This year, he received a St. Mary's University Presidential Award, which is presented to students who exemplify leadership, service and academic excellence. The award honors those who have demonstrated a service to society, participated in co-curricular activities, promoted a positive influence in promotion of the St. Mary's mission, and possess the knowledge and skills to be an effective leader.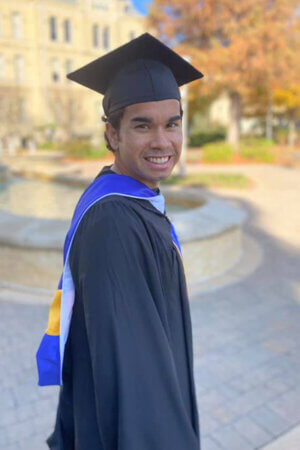 After coaching at the high school and club levels, Nerio was hired to coach at St. Mary's in 2019. To further his career at the collegiate level, Nerio knew he needed a master's degree. The only problem was he did not know what he wanted to study.
His father, who also studied history in college, encouraged him to pursue it as well.
"I had zero experience in history," Nerio said. "But I met with (Public History Graduate Program Director) Professor Wieck and I just felt good about it."
Nerio admits that while earning his bachelor's degree in health and exercise science from Centenary College of Louisiana, he was more focused on soccer and cross country.
Graduate school provided him a chance to prove that he could excel in academics as well as athletics.
In her letter recommending Nerio for the Presidential Award, Wieck wrote that he "led on and off the field, in and out of the classroom, embodying a true servant leader, building a true sense of family spirit at St. Mary's."
Wieck supervised Nerio's capstone project on a topic inspired by his father.
During his weekly visit with his grandfather, a 1950 alumnus of St. Mary's, Nerio learned that his father used to play for the Prospect Hill Yellow Jackets Little League team as a young boy just minutes away from the St. Mary's campus.
This sparked in Nerio a desire to learn more about San Antonio's West Side through the lens of sports. With his capstone, he sought to answer the question: "What role did the Prospect Hill Yellow Jackets athletic club have on this Mexican American community in the West Side of San Antonio during the 1960s?"
Nerio's research included studying archival photographs and newspaper articles, and conducting oral histories of the former little leaguers.
Nerio's project — Baseball, Hot Dogs, and Raspas — revealed how the Little League team created a network of the West Side's emerging Mexican American middle class. With more leisure time available to them, the families used the team to channel their frustrations, strive for success and celebrate moments of joy.
"There is certainly a lot of history and culture and good things being done here," Nerio said. "Public history brings to light things that haven't been researched before. I wanted to be a part of that movement."
In addition to discovering a new passion for historical research and spending time volunteering with Morgan's Wonderland and the San Antonio Food Bank, Nerio's experience as a graduate student further developed him as a sports coach.
"I learned how to establish relationships," he said. "Being a role model for my student-athletes and treating others with respect, those are the values I try to carry over onto the soccer field."