By Jennifer R. Lloyd (M.B.A. '16)
Jeddidah Thotho (B.B.A. '98) is as self-assured stepping off a global planning call for Bata Shoe Kenya PLC — the country's largest footwear company — as she is stepping into her favorite pair of Bata Comfit boots to care for her two children.
Among the world's largest footwear companies, Bata was founded in 1897 by a trio of siblings in Czechoslovakia and has been operating in Kenya since 1939. Even with that long history, Thotho's role overseeing 3,000 employees and about 150 stores signaled a change when she took over the role of Country Manager in February 2020, right before the pandemic hit. Thotho is the first woman and the first Black person at that leadership level in the company's long history.
"As much as it is a statistic that I'm the first woman to lead Bata Kenya, the first person of color to lead Bata Kenya, it doesn't really come into play on a day-to-day basis," she said. "My bosses really have a lot of confidence in me and in my ability."
Thotho credits St. Mary's University for aiding in her success.
"The background, the foundations I got at St. Mary's, for example, the value system, that I got at the University … have got me where I am in this particular role," said Thotho, who majored in Finance.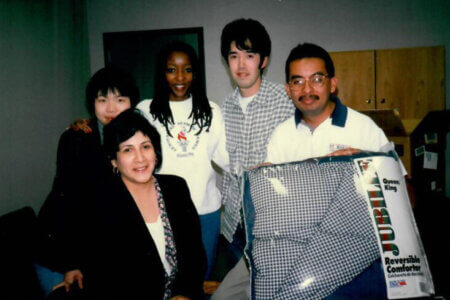 Thotho was born and raised in Nairobi, where she attended a Catholic high school, but was not able to place into a college in Kenya. There were very few public universities at the time, she said. To gain acceptance, applicants had to be exceptional students and, even then, were unlikely to get their major of choice. But a family friend had a daughter who graduated from St. Mary's University and Thotho thought the U.S. seemed like a promising education market.
Her first experience in the U.S. was when she arrived at St. Mary's. She recalled St. Louis Hall appearing to her like a monument since the historical building was so well kept.
The people made an impression too.
"I remember how warm the Texans were, very warm, very kind, really wanting to help and very empathetic and also very curious about me and where I was coming from," she said.
Fellow Kenyan and then-Professor of English Elijah Akhahenda often hosted Thotho, inviting her to church with his family or to dinner at their home. She was shocked at the time to see the professor — a man — helping in the kitchen, which was one of her first experiences with understanding the differences in American and Kenyan culture.
In high school, Thotho honed skills in financial analysis and felt the draw to study finance. Soon after graduating, she was hired to sell long-term care insurance for the financial services company John Hancock. But she got a surprise call from the Chicago-based Sears Holdings Corporation with which she had met at a campus job fair and interviewed with a year before.
She took the offer to become an executive development trainee at the store level in the Houston area, where she learned about everything from unloading trucks, asset protection and apprehending thieves, to merchandising and managing a department.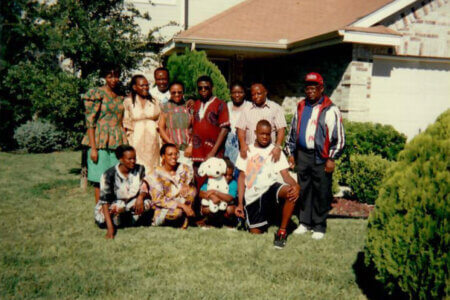 By 2003, she had moved to the Chicago area to analyze inventory for fashion clothing for thousands of stores across the U.S. Within a few years, she was promoted to a buyer in the fine jewelry department, specifically gemstones.
"I had no idea about any of the stones so to speak," she said. But she did have an analytical skillset to understand which products sell, and she got to work hatching marketing plans, creating strategic goals, getting the jewelry products onto the website and analyzing the benefits of social media for sales at an early stage.
When Sears merged with Kmart, Thotho found herself merging jewelry departments as well and was promoted to interim chief marketing officer for the fine jewelry business unit. With that exposure to senior leadership, she became director for marketing strategy for the fitness equipment sector in 2010, and expanded the clientele beyond the individual consumer to big gym operators.
But for a while, her family had been calling her home to Kenya to settle down and have children.
"It did take me some time to make the decision to move back because the reality was I was kind of hitting the glass ceiling," she said. "Even at the director level, to be honest, there were not really women, let alone women of color, let alone women from other countries."
After 11 years with Sears, she made the leap back to Kenya in December 2010 and was interviewing for new positions by January. First, she worked for Deacon, a fashion consolidator that franchised brands out of South Africa. Later, an American investor wanted her help bringing fashion, like Mango, and fast food brands, like Pizza Hut and Subway, into East and Central Africa.
"There are many opportunities in life to discover your passion," she said. "Work hard, be smart, leverage the networks that you have and things will work out. You will have a successful career regardless of gender, race or age."

Jeddidah Thotho
Bata Shoes poached her from that role in 2019 to start as their commercial director leading retail teams to sell shoes through different channels, such as stores, wholesalers, export markets, the hospitality industry and the government.
Freshly promoted to Country Manager when COVID-19 began spreading in Kenya in March 2020, Thotho prioritized employee safety, instituting handwashing and social distancing in factories where workers needed to sustain daily work. She also prioritized the safety and wellness of customers in stores by adding sanitization, having sales associates wear masks and implementing social distancing.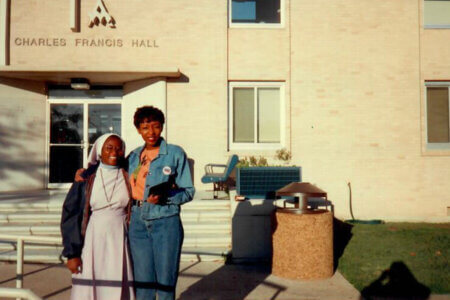 To maintain the business amid the pandemic, Bata also had to restructure and reduce expenses, including eliminating stores that were not bringing in revenue. As for their online presence, the company revamped their website and boosted their customer service on social media.
Bata also began sewing masks for its employees, sharing the extra masks with the community. They converted chemical drums into handwashing stations in neighborhoods and donated more than 100,000 shoes to health care workers and their families in Kenya.
Now as a role model to her daughter and son, Thotho hopes to inspire the next generation, especially young girls, to know that a less than stellar grade in school does not spell the end for a successful career.
"There are many opportunities in life to discover your passion," she said. "Work hard, be smart, leverage the networks that you have and things will work out. You will have a successful career regardless of gender, race or age."