by Jasmine DeLeon (B.A. '11, M.A. '15)
More than a decade ago, Larissa N. Riojas, D.O. (B.S. '08), did not realize that one choice — attending St. Mary's University — would lead her five younger sisters to follow into her footsteps. The six sisters from Weslaco have all studied at St. Mary's University's School of Science, Engineering and Technology.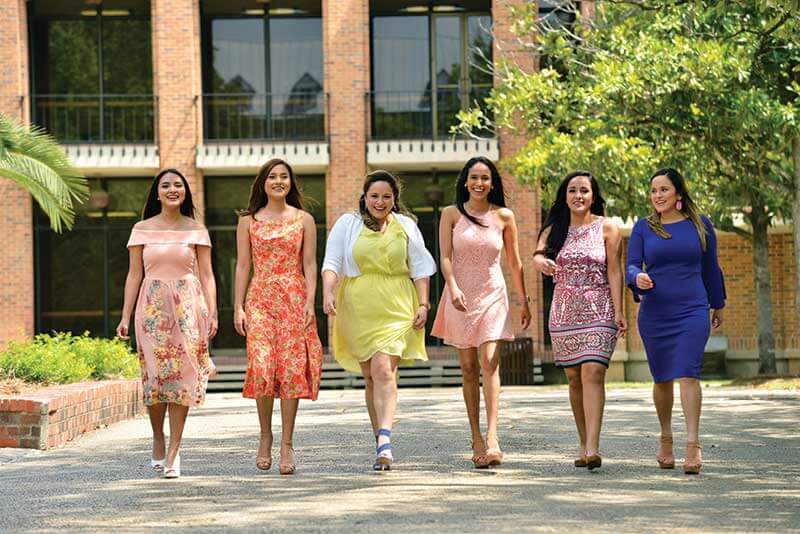 Sophomore Biology major Delicia Riojas (pictured above, from left), Karen E. Riojas (B.S. '18), Larissa N. Riojas, Iraceli P. Riojas (B.S. '15), Adriana L. Soto (B.S. '14) and Laura I. Anguiano (B.S. '13) have embraced the St. Mary's sense of family literally.
Larissa visited multiple universities before ultimately deciding on St. Mary's.
"We made a road trip all the way to New Jersey," younger sister Laura recalled. "On the whole way up there, we stopped at every single university to help Larissa decide and the road always led back to St. Mary's."
The University's high retention rate, small student-to-faculty ratio and Catholic background are just some of the reasons why all six sisters chose St. Mary's.
"Our faith is the foundation of our family," Laura said.
Delicia Riojas, the youngest, is set to graduate in Spring 2021.