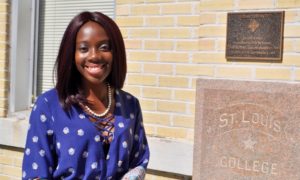 by Destinee Russell (J.D. '18)
St. Mary's University School of Law student Aisha Denis (B.A. '17) — a single mom and frequent volunteer — knows a bit more about time management than the average J.D. student.
She said it can be challenging to balance all of these things. But what helps her most is putting her son above everything else. From the time she gets home, she is 100 percent devoted to him.
"My son is definitely my motivator. I was not on the path to law before having him," Denis said. "I never want my son to think or believe that he has done anything but motivate me to do and be better that I would have been without him."
Denis began volunteering for VITA in 2016. As a transfer student from another university, she said she hoped that by volunteering with VITA she would meet fellow St. Mary's students and be able to help the community. She has assisted people throughout San Antonio with filing their taxes, free of charge. As a VITA site coordinator, Denis managed volunteers, oversees technical issues and assists in ensuring the overall success of the program.
Greg Zlotnick, Pro Bono Program Supervisor for the School of Law, said he has seen Denis shine since he began working with her in 2016.
"Since her time as an undergraduate student assistant with the School of Law's Center for Legal and Social Justice, Aisha has demonstrated an admirable commitment to service that has continued during her legal education," Zlotnick said. "She does this all while excelling in the classroom and raising her son, which only underscores just how impressive her contributions are."
Through the St. Mary's Law ID Recovery Project at Haven for Hope, she also helps underprivileged people retrieve their ID cards and birth certificates so they can begin to rebuild their lives. In Texas, you need a birth certificate to obtain a state ID, and vice versa. Individuals need these forms of identification to complete apartment rental applications and obtain employment. Without the legal help provided by the Center for Legal and Social Justice and its staff attorney, obtaining documents through the ID Recovery Project would not be possible.
"This is the best thing I've ever done. The people who I help retrieve these documents can now get a home and don't have to worry about security or where they'll stay," Denis said.
Before transferring to St. Mary's University, Denis attended Concordia University and studied psychology. Realizing it wasn't for her, she started her journey at St. Mary's, graduating cum laude with a bachelor's degree in Political Science and enrolling at St. Mary's Law.
Now that she's finished her first year of law school, Denis said she is looking toward the future. She plans to work in family law and intern for the Office of the Attorney General's Child Support Division for the summer.
"I want to practice family law and provide pro bono work for young mothers to make sure that they have all of the legal support they need. This is where my heart is," Denis said.