Duo becomes University's first Cybersecurity graduates
by Alex Z. Salinas (B.A. '11)
When graduate students Goutham Dhongadi Rukmasah and Erick Buenrostro completed their studies in December, they became the first graduates ever to leave St. Mary's University with a master's degree in Cybersecurity.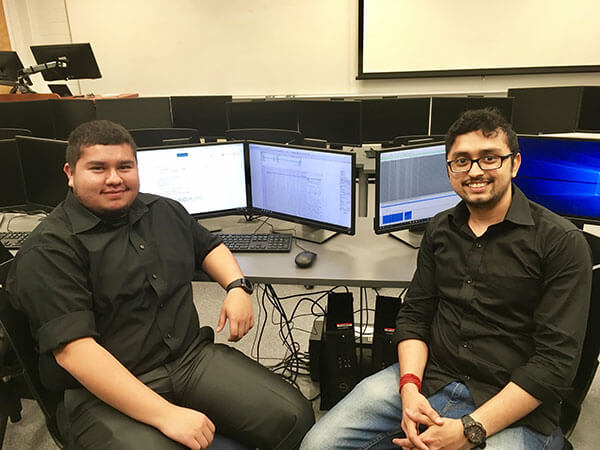 "We're making history," Buenrostro said. "It's hard to put it into words. And the best part is we're coming in at the prime of a field that'll only keep growing and growing."
Buenrostro, who was among the first students to enroll in the Master of Cybersecurity program in 2016, along with Rukmasah (M.S. '17), already knew he wanted to continue his higher education at St. Mary's after finishing his bachelor's.
"I was comfortable with the faculty and staff here," he said. "The community at St. Mary's is great."
For Rukmasah, who came to St. Mary's from India, where he graduated from Anna University in 2011 and worked at IBM for four years, starting the master's degree marked a more significant transition, living in another country and adjusting to a new way of life.
"We're a diverse program," Rukmasah said. "We have students from Kenya, Pakistan, Singapore and other places around the world. It's great. It shows the worldwide significance of this program."
Defending against cyberattack
Rukmasah said the Cybersecurity program at St. Mary's is a defensive one, "teaching us how to protect machines from attack."
"The program is designed in such a way that it starts with the basics of cybersecurity, such as encryption and programming," he added. "Then each class adds to your knowledge, which helps you with your research project and keeps you updated with what's going on in industry."
Buenrostro said that not only do Cybersecurity students learn about programming logic to "improve security for computers, networks, browsers and users," but also how information is written and stored manually, and about cybersecurity policy and law.
"With something happening every day in the news, and with daily evolving trends, it can be tough," he said, "but with the theory and practice embedded in our program, we've been prepared for the real world."
Buenrostro also commented on the program's faculty, which not only includes experts in cybersecurity, but also in engineering and in law enforcement.
"One of the coolest things I've seen is the use of adjunct professors," Buenrostro said. "One of them is a San Antonio Police Department detective and is also an FBI Task Force participant. Learning from him firsthand, someone who's long incorporated cybersecurity principles in his field, has been invaluable."
For his research project, Buenrostro built what he calls a "Mobile, Browser and Cryptography Security Package," which he developed to target security across different platforms of the cyber field. It contains software that both protects and educates users about the dangers of the connected world.
Rukmasah's research project was a "Light Weight Security Application" — a networking and security tool with a graphical user interface that aims to simplify the work of analysts by allowing users to digitally sign confidential files, test firewalls for attacks, generate strong passwords and share files within a network.
"This program has given me so much confidence," Rukmasah said. "I'm ready to see what comes next."
Buenrostro echoed Rukmasah's statement, saying that he believes what they've built for their research projects "can compete in the market."
Buenrostro plans to pursue a Ph.D. in Computer Science and eventually open his own cybersecurity business in his hometown of El Paso. He said the greatest thing about a St. Mary's education has been that it's helping him think on his own.
"We've been taught how to problem-solve and how to teach ourselves," Buenrostro said. "That speaks volumes about the community of the program and the school, from the program director and the faculty and staff to my classmates."