by Alex Z. Salinas (B.A. '11)
(This piece ran as part of a series on the importance of summer experiences as a component of students' learning and career development.)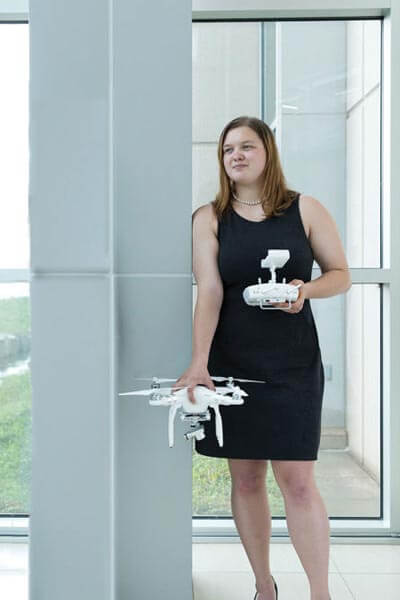 Out of control wildfires are devastating to people and property, and perhaps no danger is greater than that of the first responders who are fighting the fires.
Precious minutes are lost and more lives are put closer to danger as firefighters get as close to the fire as possible to determine its boundaries.
"Currently, firefighters triangulate a fire by driving three fire trucks as close to the location as possible," said Kayla Berger. "From the fire truck, they must walk through terrain, often mountainous, rugged or tree-filled, following smoke to pinpoint the boundaries of a fire."
When they reach the fire — often with great difficulty — each firefighter must radio in their location to their command center. "This wastes a lot of time, energy and effort just to obtain the boundaries of a fire," Berger said.
Berger worked under the Summer Undergraduate Research Fellowship Program at the National Institute of Standards and Technology (NIST) in Boulder, Colorado, where she and a small team researched how wildland firefighters can use commercially available products to better communicate with one another while battling fires.
And the potentially life-saving answer the team came up with was simple, relatively affordable and easily accessible: A $1,000 store-bought quadcopter that streams live video, sending back GPS coordinates of the fire.
"No firemen would be placed in danger trying to find it, and reconnaissance would take significantly less time," she said.
The idea was partly inspired by firefighters and administrators in the field, whom Berger interviewed to understand what kind of technology they wanted improved or modified.
"The internship at NIST not only further developed and reinforced my technical engineering abilities, but gave me an opportunity to improve my collaboration and communication skills," she said.