Tennis player and Greehey Scholar Michael Maciel wants kids to have a chance in his sport of choice.
by Robin Johnson (B.A. '11, M.A. '13)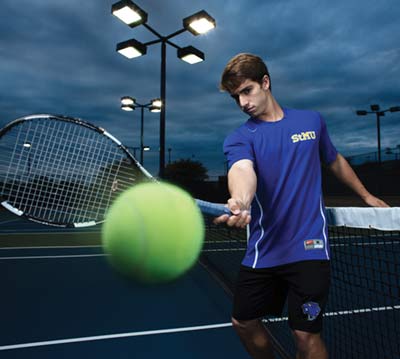 As a St. Mary's freshman, Michael Maciel already is a decorated member of the tennis team, and he is channeling his own passion for the sport to inspire young people in the community.
As a Greehey Scholar in the Bill Greehey School of Business, Maciel had to choose a service project to participate in, but he ultimately decided to create his own.
"The first thing that came to mind was tennis," he said.
His project provides free tennis lessons to interested Northside Independent School District students who couldn't afford to take lessons on their own.
"Tennis has always been something that has been a huge part of my life," he said. "I know the values and structure that it's brought to my life, and I was wanting to give that back to children who may not have had that opportunity."
Maciel's project offers three clinics tailored to different age groups and playing levels.
"I knew it was going to be a challenge starting my organization as opposed to doing a service project that has already been underway, such as Habitat for Humanity," Maciel said. "But it was a very good opportunity to give back to the tennis community, which has done so much for me in my life."
Maciel's project kicked off in September, and he hosted six clinics over a weekend that served more than 100 students, many of whom were trying the sport for the first time.
St. Mary's head tennis coach Lisa Dausin said that Maciel's achievements are fitting of the person she met when she recruited him from his native Sugar Land.
"Michael's outstanding success on the court stands on its own, and his impressive academic record and accomplishments are also well recorded," Dausin said. "What you can't see on paper, however, is the strength of character this young man possesses."
Maciel will continue his tennis clinics throughout the year while helping the Rattlers go for a third-straight nationally ranked year.
Learn more about the women's tennis program at www.rattlerathletics.com.