All active duty and veteran students are encouraged to visit the Veterans Center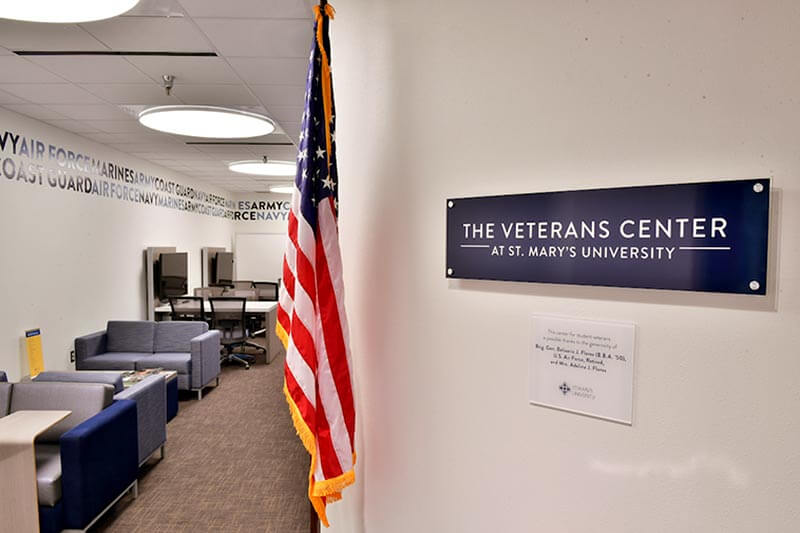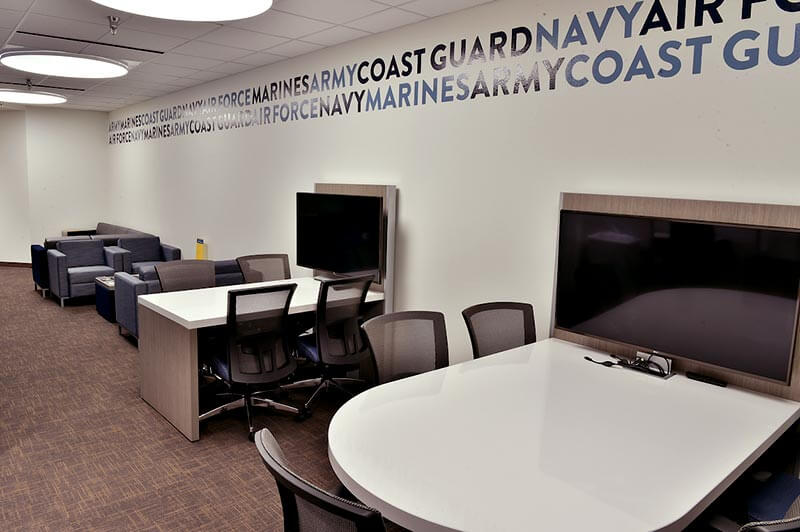 Located on the second floor of the University Center, the Veterans Center was made possible thanks to a donation from Brig. Gen. Belisario J. Flores (B.B.A.'50), U.S. Air Force, Retired, and his wife, Adelina. The center is designated for St. Mary's active duty, veterans and retired military members and includes collaboration stations, study pods, and relaxation areas.
About Brig. Gen. Belisario J. Flores
Flores held the position of Assistant Adjutant General for Air for the State of Texas from 1971 to 1986, which made him the first Hispanic person to hold that position. Before graduating from St. Mary's in 1950, he participated in the ROTC program and was commissioned a second lieutenant of Artillery.
He was called to active duty in 1951, where he served as an Artillery Officer and spent nine months in combat in Korea before his release from active duty in 1953. His subsequent roles included Supply Officer, Accounting and Finance Officer in the 149th Combat Support Squadron, and Commander 149th Combat Support Squadron.
Flores was promoted and federally recognized as a Brigadier General in June of 1974. Later that year, he was appointed by the Chief of the National Guard to work with minority groups to develop a program that would attract minorities into the officer career fields.
His decorations and awards include: the Bronze Star Medal, Legion of Merit, Air Force Commendation Medal, Air Force Outstanding Unit Award, Good Conduct Medal, American Campaign Medal, World War II Victory Medal, National Defense Service Medal, Korean Service Medal, Air Force Longevity Service Award Ribbon with six Oak Leaf Clusters, Armed Forces Reserve medal with two Hourglass Devices, United Nations Service Medal, Lone Star Distinguished Service Medal, Texas Outstanding Service Medal, Texas Federal Service Medal, Texas Faithful Service Medal with five Bronze Cactus Leaf Clusters, and the Adjutant General's Individual Award.