For Lucia Martinez, the St. Mary's University spirit runs in the family.
Growing up in San Antonio, she would often hear her parents — Pete Martinez (B.S. '95) and Joan Martinez (B.B.A. '96, M.A.'14), who met on campus — tell stories about their time as Rattlers.
"What they talked about was the community they built and the family spirit they felt on campus," Martinez said. "I'm definitely feeling that spirit now, too."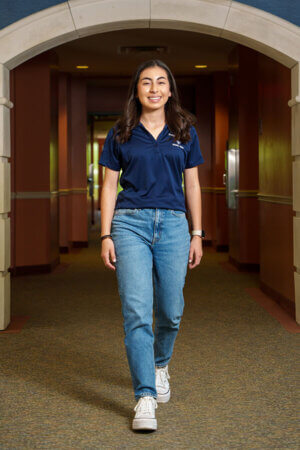 The first-year Psychology major was inspired to attend St. Mary's not only because of her family legacy, but also because of how its Catholic and Marianist values shaped the lives of her parents.
Eager to explore how those values could inform and strengthen her spirituality, Martinez dove headfirst into a variety of faith-based activities in her first semester. She became involved in University Ministry, joined a registered student organization called the Catholic Student Association and became a member of the chapel choir.
"It's really felt like a family," she said. "These St. Mary's communities have helped me feel at home here and, more importantly, they've helped me further develop my relationship with God."
Martinez has continued examining the concept of faith in her academic courses. For her first seminar class, she wrote a paper exploring the challenges college freshmen face in maintaining an active faith life.
"I appreciated Lucia's concern for a topic that affects people at such a deep level," said Janet Dizinno, Ph.D., the Associate Professor of Interdisciplinary Studies who led the seminar. "She engaged in careful self-reflection and incorporated research from scholars who had explored the issue of faith in college students."
"These St. Mary's communities have helped me feel at home here and, more importantly, they've helped me further develop my relationship with God."

Lucia Martinez, Psychology major
Martinez's parents, of course, couldn't be happier about the path she has chosen and the impact she is already starting to make on campus.
"My wife and I have tried to live out the Marianist charism of service to the community for more than 30 years," said Pete Martinez. "We feel humbled that she would even consider following in our footsteps."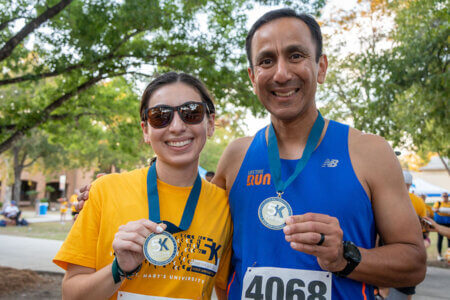 The duo also, literally, followed in each other's footsteps during the 2022 StMU 5K for the Neighborhood when the father won in his age group and the daughter won in the female student category.
Outside of University Ministry and the 5K, Martinez also lives on campus in the Psychology Living Learning Community in Founders Hall, where she enjoys learning from other freshmen Psychology majors beyond their courses.
She said she believes that a Psychology background will provide the tools she needs to help different kinds of people and understand how others think. Ultimately, she hopes these skills will lead her to a career in education or counseling.
Until then, she plans to use these skills right here on campus.
"I've had a lot of mentors on campus who have helped guide me in my faith life," she said. "I'd like to help other freshmen in the same way and to advance the family spirit like the University mission says. That's really important to me — that family spirit and making people feel welcome and like they belong."
As she advances the University mission, she said she intends to continue the legacy her parents began three decades ago.
"It's interesting to talk with them about my life on campus," she said. "So much has changed, and yet so much has remained the same since they were here."