by Jennifer R. Lloyd (M.B.A. '16)
What's round, made of copper and nickel, worth 25 cents and has a St. Mary's University connection?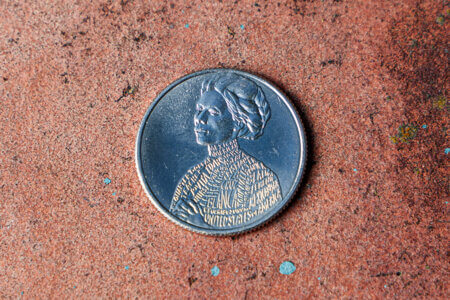 Idár was a Mexican American woman born in Laredo in 1885 who became a journalist, activist, teacher and suffragist, according to the Mint. She fought against separatist ideologies and worked to build a better future for Mexican Americans and women.
The coin — the ninth in the line of American Women Quarters — was revealed on Sept. 15 in San Antonio. Idár's family, including St. Mary's employee Rose Ann Martinez, joined in celebrating the momentous occasion.
Martinez, who began working at the University about three years ago as an accounts payable technician, said she found inspiration in the new quarter featuring her great-great-aunt.
"I have grandchildren, and I want them and future generations to know the history behind that quarter," Martinez said.
Celebrating Hispanic Heritage Month history
The quarter will be recognized at a St. Mary's University event culminating Hispanic Heritage Month celebrations, called Noche de Cultura, from 3 to 7 p.m. on Wednesday, Oct. 11, in the Quad.
"A teacher, journalist, political activist, feminist and humanitarian, Jovita Idár is a giant of Mexican American history whose life represented a deep commitment to democratic values and the common good," said Gerald E. Poyo, Ph.D., the O'Connor Chair for the History of Hispanic Texas and the Southwest and Professor of History. "This national recognition affirms and celebrates Idár and her many accomplishments, but also represents the strengths of American diversity and the many who have struggled to make the United States a more welcoming place for all."
Unaware that the quarter was in the works until a couple of weeks before its release, Martinez talked with her mother, who was a child when Idár died in 1946. Martinez said her mother remembered sitting with Idár and hearing her deep, raspy voice as the two wrote a story together on black paper using chalk.
Martinez said elevating Idár's legacy to the level of being depicted on a quarter alongside America's other significant historical figures meant a great deal to her family.
"I know Jovita didn't do everything she did for a quarter," Martinez said. "I know she didn't do this to be recognized. But she did this because it was in her. She felt those were her rights. … And she wanted to give us more rights."