April 28, 2022
Tickets will be required for guests
St. Mary's University will honor the accomplishments of its 655 new graduates with two in-person Commencement ceremonies in May.
Each ceremony will be held in the Alumni Athletics & Convocation Center's Bill Greehey Arena. Tickets will be required for all guests entering the arena. Face masks for the ceremonies are optional. The ceremonies will also be livestreamed at www.stmarytx.edu/live.
During the University ceremony on Saturday, May 14, St. Mary's will bestow the degree of Doctorate of Commerce, honoris causa, on Charles Rodney Anderson, the first African American admitted to the University in Fall 1951.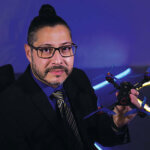 At 1:30 p.m. on Saturday, May 14, the University ceremony will celebrate the achievements of 440 new graduates, including 355 receiving bachelor's degrees, 82 receiving master's degrees and three receiving doctoral degrees.
The University's commencement address will be given by Juan Manuel Valadez Jr. (B.S. '03, M.S. '06, M.B.A. '11). Valadez is CEO of www.HireComplete.biz, as well as Assistant Professor of Practice at the University of Texas at San Antonio.
School of Law Commencement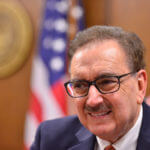 At 1 p.m. on Saturday, May 21, St. Mary's Law will celebrate the accomplishments of 215 new May 2022 School of Law graduates, including 17 receiving their Master of Jurisprudence (M.Jur.), 194 receiving their Doctor of Jurisprudence (J.D.) and four students receiving their Master of Laws (LL.M.).
The School of Law's commencement address will be given by The Honorable David Alan Ezra (B.B.A. '69, J.D. '72). Ezra serves by designation on the U.S. District Court for the Western District of Texas, San Antonio Division.