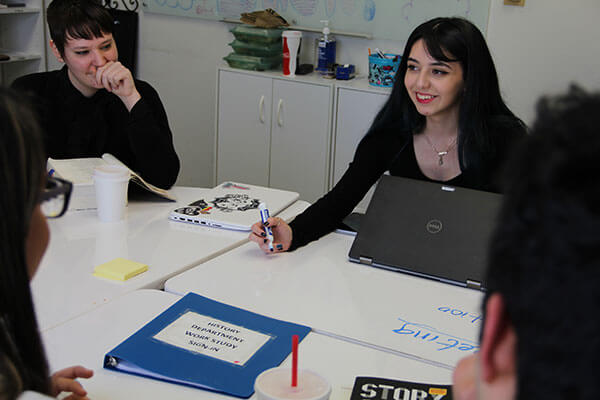 A study space called the Collaboratory, located on the fifth floor in Chaminade Tower at St. Mary's University, is bringing together budding minds in the Department of History.
During Spring 2018, several History faculty members began brainstorming ways to transform an underused office into a modular, sophisticated area for graduate and undergraduate collaboration.
The Collaboratory has allowed students to share their expertise and enhance each other's work.
Inspired by The Defining Moment Comprehensive Campaign, which addresses plans for a new humanities space, Public History Graduate Program Director Lindsey Passenger Wieck, Ph.D., pulled together funds to support the new Collaboratory.
"We found money to create our own prototype space that met faculty needs for movable furniture, whiteboards and a collaborative learning space with tech," Wieck said.
The Collaboratory is equipped with whiteboard tables, computers and TVs — all of which are portable.
"Modality is extremely important," said Bradley Root, Ph.D., Chair of the History Department. "It's been used as a place for club meetings, an office for student assistants, a place to screen documentaries and, overall, a place to do work."
Gabriel Cohen (B.A. '13, M.A. '19) said the space bringing the department together.
"Graduate students and undergraduates work together as peers instead of in a hierarchy," Cohen said.
For now, the Collaboratory is open only to History students, but the space may serve as a launching pad for future partnerships.
"More spaces for collaboration open up important and necessary conversations between faculty, students and community members across multiple disciplines," Wieck said. "Together, we could reach a larger audience."