February 25, 2020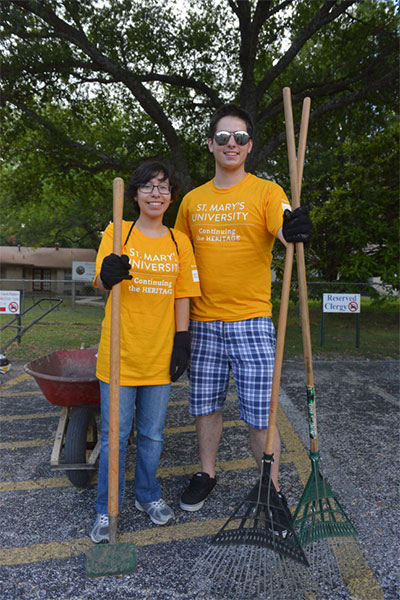 Nearly 400 St. Mary's University students, faculty, staff and alumni will volunteer across San Antonio on Saturday, Feb. 29, for Continuing the Heritage — an official service event that kicks off the University's 40 Days of Lent and Service initiative.
The biannual service day brings together the University community to volunteer for projects, such as cleaning up graffiti; improving nonprofit facilities through painting, yard work and office clean-up; and packaging food and diapers for those in need.
Since 1997, about 12,000 volunteers have offered more than 50,000 hours to organizations that provide much-needed services throughout the area.
The Carnegie Foundation recognized the University's commitment to community engagement in January by bestowing the Carnegie Community Engagement Classification. The University earned this important elective designation for a second time following a process of self-study, which was then assessed by a national review committee.
San Antonio volunteers will gather on the Flex Field at The Park at St. Mary's at 7:30 a.m. for an opening ceremony, which includes breakfast and prayer, before beginning their morning of service. From 9 a.m. to noon, they will serve at sites including:
Catholic Charities of San Antonio's Guadalupe Community Center at 1801 W. César E. Chávez Boulevard. Volunteers will assist the Foster Grandparent team in assembling flowers for their upcoming Fiesta event for senior citizens in San Antonio to promote health and wellness. They will also be weeding, sowing, watering and pruning in the St. Phocas Garden, which provides fresh vegetables for the food pantry at St. Stephen's CARE Center.
Texas Diaper Bank at 1803 Grandstand Drive, Suite 150. Volunteers will help repackage diapers and wipes for clients who receive assistance from the office and their 54 partner agencies.
Good Samaritan Community Services at 1600 Saltillo St. Volunteers will be painting a St. Mary's-themed mural in one of the classrooms used for summer camps and the after-school program for K-12 children.
Locke Hill Elementary at 5050 De Zavala Road. Volunteers will help throughout the Northside Independent School District's Locke Hill elementary campus with preparing bulletin boards, helping to prepare the Makerspace program, labeling in the library, decorating classrooms and organizing student work.
More about 40 Days of Service
In the spirit of the Lenten season, Catholic Charities and the Catholic community of San Antonio have joined together for a campaign called 40 Days of Service. The goal is for every Catholic school and university in the Archdiocese to commit to service during Lent and for participants to have a meaningful service experience by offering their time and talent to assist people in need.
Service opportunities include mentoring, organizing donation drives, stocking food donations, tutoring children, distributing food, painting, landscaping, and assisting veterans and seniors. For more information on other 40 Days of Service activities, contact Catholic Charities at 210-222-1294 ext. 2210, or email Irene Astran at iastran@ccaosa.org or Amaris Estep at aestep2@ccaosa.org.