August 11, 2020
In a continued effort to increase the pipeline of underrepresented students into careers in medicine, Baylor College of Medicine has partnered with St. Mary's University in San Antonio in a program that will give three qualified students from the University the opportunity annually to participate in Baylor's Medical Track Program. It will be one of five Baccalaureate/Medical Doctorate Program partnerships at Baylor.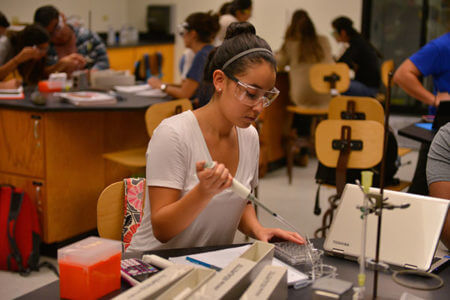 The program puts accepted students on track to attend medical school at Baylor College of Medicine once they complete their undergraduate studies at St. Mary's.
This partnership adds to Baylor's continued presence in South Texas/Rio Grande Valley, where the College has partnered with six magnet high schools and three middle schools to develop programs aimed at students interested in careers in medicine, science and the health professions for more than 25 years.
"We are thrilled to grow our partnerships in South Texas and strengthen our commitment to diversity and inclusion," said Dr. Paul Klotman, President, CEO and Executive Dean of Baylor. "Through these programs, we are working to train a diverse group of future health care professionals, which we believe is essential in providing the best care to patients."
"Baylor College of Medicine has a stellar reputation and this collaborative Medical Track Program will be of immense value to underrepresented students who are seeking to enter medical school," Erevelles said. "We are very impressed by the rigor, caring and personalized attention that the BCM educational environment offers its students."
Thomas Macrini, Ph.D., St. Mary's Chair and Professor of the Department of Biological Sciences, said that this program will further help students of the Hispanic-Serving Institution who are already accepted into medical schools at a much higher rate than the Texas and national averages.
"Baylor College of Medicine is a premier medical school; one that is highly ranked in Texas and the U.S.," Macrini said. "We are thrilled to have this program that provides our students with an opportunity to gain early acceptance into BCM. Partnerships such as this have been a big part of the recent success in our students getting accepted into medical school."
Accepted students will be required to maintain good academic standing at St. Mary's and maintain a semester and cumulative GPA of at least 3.5 (including biology, chemistry, physics and math with no grades lower than "C"). Students must also take the Medical College Admission Test no later than spring of junior year with a minimum score of 502 and no section score lower than 124. Accepted students also will be required to successfully complete a summer internship after sophomore year and receive satisfactory evaluations from the Baylor staff. All student information must be complete, updated and active.