October 8, 2019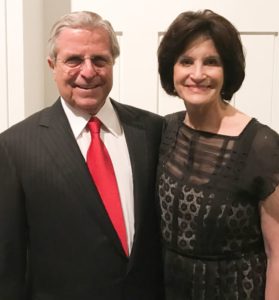 A $1 million gift from Antonio R. Sanchez Jr. (B.B.A. '65, J.D. '69), executive chairman of Sanchez Oil & Gas Corporation, will establish the A.R. "Tony" and Maria J. Sanchez Endowed Scholarship Fund at St. Mary's University. The gift will provide scholarship awards to undergraduate students pursing a degree in the School of Science, Engineering and Technology.
"Tony Sanchez is one of St. Mary's University's most distinguished graduates," said President Thomas Mengler, J.D. "Tony's generous gift is his second gift to the Defining Moment Campaign."
"It will enhance the School of Science, Engineering and Technology's capacity to develop our students, especially those with financial need, into leaders who will meet the scientific, health care and technical demands of the future," Mengler said.
Scholarship recipients must be in good academic standing, with preference given to students with demonstrated financial need from Webb County.
In 1972, Sanchez co-founded the Houston-headquartered Sanchez Oil & Gas Corporation with his late father Tony Sanchez Sr. It engages in exploration and production operations in the onshore Gulf Coast, mid-continent and Rocky Mountain regions.
Other business interests pursued by Sanchez include venture capital investments and partnerships in a variety of technology businesses, industrial parks, ranches and commercial real estate.
Sanchez, who studied Financial Management at St. Mary's as an undergraduate before earning his J.D., was a member of the St. Mary's Board of Trustees from 1981 to 1986. He received the Distinguished Alumni Award in 1983 and the Distinguished Law Graduate Award in 1998.
This gift marks another definitive step toward reaching the $130 million fundraising goal of The Defining Moment Comprehensive Campaign, which the University publicly launched in November 2017. As the largest campaign in the Catholic and Marianist University's history, donors have helped St. Mary's raise much of its goal needed to invest in future generations of students.