July 22, 2019
Screenings are Thursday, Aug. 1, and Saturday, Aug. 3, at the Tobin Center
A 25-student group. A 2,000 mile journey. A quest for one contentious wooden leg. One film captures it all.
The film, "25 Texans in The Land of Lincoln," by filmmaker Ellen Brodsky, will illuminate for Texas audiences an expedition by St. Mary's University Public History students calling on the Illinois State History Museum to repatriate to Mexico the leg that once belonged to Mexican general Antonio López de Santa Anna.
In the midst of the Mexican War of 1847, Santa Anna left behind the prosthetic leg when surprised by a unit from Illinois. The troops captured the leg and brought it to Illinois.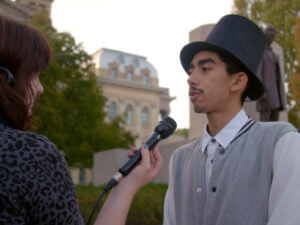 The film captures the 2016 journey of St. Mary's University Public History students and Professor of History Teresa Van Hoy, Ph.D., seeking to challenge ideas about the Mexican War, repatriate the leg to Mexico and honor U.S. President Abraham Lincoln with a Day of the Dead altar.
"These young Texans gathered at the Alamo in the pre-dawn dark to embark on a journey that took them not only to Illinois and back, but to the front page of the Wall Street Journal, to TV and radio audiences, and now to film festivals across the United States and in Mexico," Van Hoy said. "Please join them at the Tobin Center for the Performing Arts to hear their message of bold truth and beautiful belonging."
The film will screen on Thursday, Aug. 1, and Saturday, Aug. 3, during the San Antonio Film Festival during the Split Decisions Shorts Blocks at the Tobin Center for the Performing Arts, 115 Auditorium Circle. The Aug. 1 screening will take place at 9 a.m. in the McLaughlin Family Rotunda. The Aug. 3 screening will be held at 3 p.m. in the Feik Family Rotunda.
Following this Texas premiere, the film will screen at additional fall festivals in Mexico and the U.S., including the opening night screening at the Immigration Film Festival in Washington, D.C., in September.
"Though not typically a history person, I fell in love with how these students worked together to understand and share challenging history," Brodsky said. "They helped me feel the sense of urgency historical stories have for our uncertain present."
For complete film, DVD and streaming details, as well as a press kit, please visit the film's website. For more information about St. Mary's University's Public History educational offerings, including the Master of Public History, please visit the program's website.