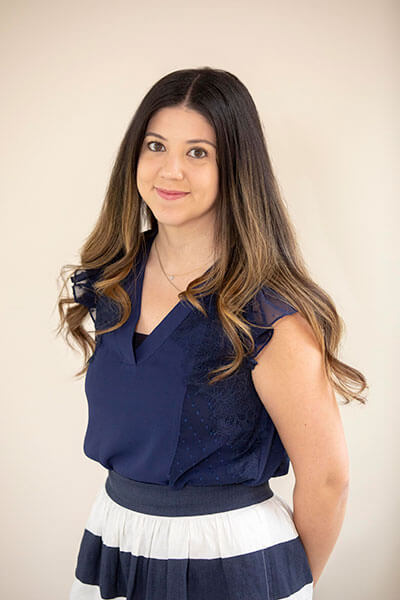 Since graduating from St. Mary's University, Cristie Esparza (B.B.A. '07) has dedicated her life to acts of service — a practice she began during her time as an undergraduate.
When she arrived at St. Mary's as a freshman, Esparza wanted to follow in the footsteps of her pediatrician father. However, after volunteering in a clinical capacity to help oncology patients at a local hospital, she changed her academic focus to business to learn the non-clinical side of medicine.
Esparza volunteered her time to San Antonio-area community outreach programs; the Christus Santa Rosa Health System; and a program at St. Mary's which allowed students to meet regularly with professed Marianists to build friendships. She accomplished all this while working full time.
"I've always felt there is more I could do, and I love meeting new people, making connections and exploring new opportunities," Esparza said.
Her passion for service coupled with her business education at St. Mary's led Esparza back home to the Rio Grande Valley. As Volunteer Services Manager with the Doctors Hospital at Renaissance in Edinburg, she launched a volunteer service in 2009.
As a physician-run facility, the Doctors Hospital does not have a corporate headquarters but is spearheaded by a board of doctors and community partners, of which Esparza has recently been named one.
"Our values align with helping individuals" rather than making money, she said. "We focus on the patient and the employee."
Esparza dedicates her time now to helping the hospital facilitate volunteer services, community outreach programs and fundraising opportunities. She also serves as a volunteer in her spare time.
With an average of 100 individuals, the adult volunteer program Esparza created is comprised of college students and retired professionals.
"Even though our numbers swell to more than 300 in the summer, we try to keep it around 100 because we're a fairly new hospital," she said. "The older hospitals here have volunteers that have been there for years, and that's something we're striving to become."
Managing the volunteer and community outreach programs is only one of the areas Esparza oversees on a daily basis. With a focus on building wellness initiatives, Esparza relies on her experiences as a business major to handle operations, such as the online employee shop.
"With a general business degree, I got to learn a little bit about marketing, human resources and entrepreneurship," she said. "I feel that all those experiences at St. Mary's really helped me to do all the different duties I'm assigned here at the hospital."
Esparza is most proud of the VolunTEEN program she began in 2010. The eight-week summer program enrolls high schoolers interested in pursuing health care-related careers. Those accepted gain experience in a variety of areas — from the legal department to the operating room.
"Last year, we had more than 300 apply," she said. "That's huge."
Esparza interacts closely with her high school volunteers, building relationships with them and, in turn, writing letters of recommendation for college applications and summer programs. Esparza said one of her former volunteers will soon finish her physician's residency, having chosen to complete it at the Doctors Hospital.
"We've had so many amazing kids come through this program," Esparza said. "They're still going at their goals and working in medicine, and I love that they come back to our hospital."
Esparza credits her success to St. Mary's and its Marianist traditions.
"I wanted a school that aligned with my core values," she said. "I wouldn't be the same person I am if I didn't go to St. Mary's."