by Jasmine DeLeon (B.A. '11, M.A. '15)
It might not seem like an obvious connection, but for Eric Weissling (B.B.A. '10), his St. Mary's University business education is a perfect match for his career as a professional basketball coach.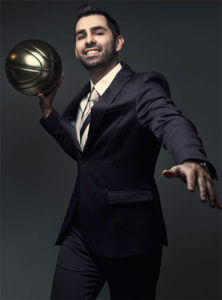 "Seeing, hearing and being involved with different ideas from different students at St. Mary's now correlates to my coaching," said Weissling, who leads the Náuticos de Mazatlan.
"I can see different personality traits, characteristics and learning processes that allow me to better coach the different kinds of personalities on my teams. Chemistry building isn't easy and takes work, observation and the ability to understand others."
What he learned in the Greehey School of Business helped prepare him to become the youngest head coach in the history of professional basketball in Mexico. He previously worked for the Russian national team, the San Antonio Spurs, Halcones UV Xalapa (Liga Nacional Baloncesto Professional), Mexico's men's senior national team, and the Pioneros de los Mochis.
While he was an assistant coach for Mexico's national team, the team won the gold medal in the FIBA Americas tournament, the first time Mexico had even qualified for the world championship since 1974.
The previous youngest coach to lead a Mexican pro team now works for the NBA's Washington Wizards. That coach was 31 when he took his head coaching job. Weissling is 28.
And he isn't planning any timeouts.
When he isn't putting together players, coaching staff and his team's budget for the 2016 season, he is working on a master's degree in coaching education and athlete development.
"For me, this master's program is vital because it is sport-specific, and allows me to really get into detail on coaching philosophies, leadership development, athlete development and sport-specific ethics and values," Weissling said.
There's still more to come from Weissling.
"It's going to be a fun season with a lot of expectations and an opportunity to do something that no one else has — win a championship as a head coach under the age of 30."