by Jasmine DeLeon (B.A. '11, M.A. '15)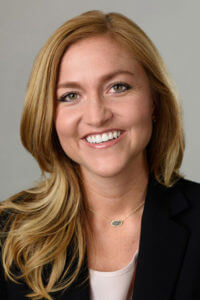 Jenna L. Saucedo-Herrera's rise in the ranks at CPS Energy – which is the largest publicly owned utility in the United States – is nothing short of meteoric.
Just six years after receiving her Bachelor's of Business Administration from St. Mary's University, Saucedo-Herrera is now the youngest vice president in the history of CPS Energy. Her quick move up the ladder and her rock star business skills also have been noted by the San Antonio Business Journal, which named her one of the 2015 Women's Leadership Award winners.
Each year, the Business Journal recognizes 15 women who demonstrate positive change for their company or organization and who serve as an inspirational leader in their community.
"It's a little bit surreal for me. I do what I do because I love the job, and I enjoy the people I work with," said Saucedo-Herrera (B.B.A. '09). "I'm flattered by the recognition, and even more flattered that I was nominated."
Saucedo-Herrera credits her time at St. Mary's University with preparing her for professional success, pointing to her involvement in classrooms and on the softball field. She recalled an ethics course with Professor Matt Gilley, Ph.D., in which he challenged Saucedo-Herrera to keep up with the world around her in addition to her workload, she said.
"I had to develop discipline over the course of my time at St. Mary's and in my professional and personal life."
As someone who aspires to live the St. Mary's mission, Saucedo-Herrera spends time mentoring corporate interns who are fellow Rattlers and part of the Greehey Scholars Program.
"We learn in the Greehey School of Business there are expectations of what it takes to be a leader," Saucedo-Herrera said.