by Alex Z. Salinas (B.A. '11)
Matteo Borri (B.S. '07) has clear ideas for the future of his robot-building company. Stay small enough that customer interaction is personal. Create high-quality, tough machines that find new ways to get things done – from projects as small as delivering a pizza to those as big as building custom sensors for NASA.
Oh, and never, ever, come to work in a tie. (A sticky note on a whiteboard reminds the staff, in case anyone is tempted.)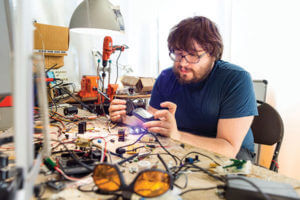 Borri is co-founder of Robots Everywhere, a company in San Rafael, California, that specializes in making "affordable autonomous robots." Since opening in 2008, they have made autonomous navigation systems used on sailboats, surveyor boats, airplanes, indoor and outdoor land vehicles, and submarines, to name a few. In simplest terms, autonomous navigation systems use sensors and electronics so that a machine can function without a human telling it what to do or how to get somewhere.
And it's proving popular; they have about 1,000 clients.
"We like to work with hobbyists and high schools and community colleges that would not be able to afford things like a laser cutter or a long-range autonomous rover if we didn't make them the way we know how," Borri said. But some of their clients are quite large, such as the Mars Society and NASA.
Borri fondly remembers receiving an email from a NASA senior scientist whose research focused on the evolution of the solar system and the origin of life. He needed help developing sensors using Android phone technology. Other organizations that have subcontracted Robots Everywhere include the U.S. Coast Guard, the Navy and the TV show MythBusters where, for one episode, Borri assisted hosts Adam Savage and Jamie Hyneman on an accelerometer sensor.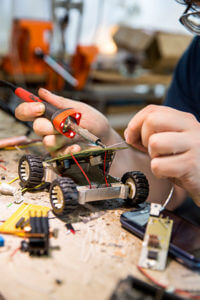 In 2015, his company's services were requested by Inertia-Labs, another robotics company that has competed on ABC's recently revived series BattleBots. Robots Everywhere was given the task of building electronics and writing firmware for Interia-Labs' battle robot, Bronco — a machine that could flip other robots up to 9 feet in the air. Bronco advanced to the semifinal round.
"Watching 200-pound battle robots slam into each other from up close was an incredible experience," Borri said. "However, people should know that most BattleBot builders are pacifists. I wish TV showed more of that."
Using technology for good is important to Borri. Robots Everywhere helped an organization in Portugal by sending them designs for advanced navigation systems – free of charge – so they could remove landmines in Africa.
"My only regret with that is we weren't more involved," he said. "I wish I could"ve been there helping out in person."
A native of Verbania, Italy, Borri first heard about St. Mary's University from his Catholic high school principal. As a high school senior, he was in the United States as an exchange student. When the time came to apply for colleges, he narrowed it down to UCLA and St. Mary's.
"I spent a grand total of two days in Los Angeles, and that city scared me," he said. "So I went with St. Mary's."
As a Computer Engineering major, Borri said he was "fortunate enough to learn all sorts of skills like woodworking, metalworking and operating a micromill for electronics prototyping," all of which have shaped the way he thinks about his business today.
After graduating from St. Mary's, he moved to California for a job, and soon Borri and business partner Reason Bradley were able to create Robots Everywhere.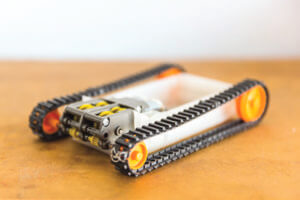 Of the two shops that constitute Robots Everywhere, one of them is also Borri's house.
"It's very much like in Italy where it's common to live above your workshop," he said.
Borri lives frugally. He doesn't own a TV, he still drives his "tank" – a 1999 Mitsubishi pickup truck he uses to haul parts from local distributors and warehouses – and for trips to the grocery store, he rides a homemade electronic bike that is similar to a Vespa.
And for kicks, he's even sent one of his rovers to a nearby pizzeria a few times. He learned quickly to give the police department a heads-up when doing this.
"It's not every day you see a strange, potentially scary-looking robot delivering pizza," he said.
Borri said he's looking to marginally expand Robots Everywhere by adding a third workshop and doubling his employees.
After that, he's not interested in much more growth.
"The whole locally produced thing doesn't just apply to food, but to technology as well," he said. "And with the rebirth of shop class, there's a need for companies like us."