Aaron Tyler believes that faith – any faith – can be the foundation for transforming conflict
by Nicolette Good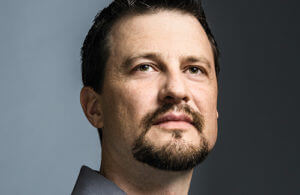 Aaron Tyler grew up in the Baptist religious tradition, the son of an Air Force chaplain. It was a childhood that uniquely prepared him for a life dedicated to the study of faith-based peace building.
"Imagine different people from different backgrounds coming together every week, whether they're Lutheran, Presbyterian, Catholic or Mormon," Tyler said of how his dad's role shaped his views. "That ecumenical background influenced me very much."
Tyler earned his Ph.D. in Religion, Politics and Culture at Baylor University, became an ordained Baptist minister in 2001, taught at Truett Seminary in Waco, and pastored a church in Oglesby for six years while completing his doctoral studies — another experience that would prove influential in his life's work.
Faced with extreme poverty, Oglesby's residents struggled with unemployment, drug addiction, domestic violence and poor living conditions. Pastoring to a community in such need allowed Tyler to leave the "ivory tower" of academia and to serve people who were struggling daily, often without the community resources they desperately needed.
"Pastoring in Oglesby taught me a lot about working with people going through challenging issues," Tyler said. "It's immeasurable how that kind of thing impacts you."
Tyler came to St. Mary's in 2006 where he continued researching the role that faith-based organizations play in peace-building initiatives. He was especially drawn to those that addressed identity conflicts — conflicts in which a person or group's sense of self is threatened or not legitimized.
While studying these groups, Tyler became immersed in the actual work the organizations were doing.
"(My research) got me thinking about how St. Mary's could play a more direct, contributive role in peace building and conflict transformation — how we could partner with some
of these other faith-based organizations in creating a holistic and comprehensive look at conflict transformation."
Religion: The Cause and the Cure
As Director of the International Relations graduate program at St. Mary's, Tyler created an Academic Certificate in Conflict Transformation built on the groundwork of the department's already successful online-classroom capabilities. The certificate, which welcomed its first class in fall 2013, is a sort of global classroom, geared toward people working on the ground in conflict and post-conflict zones and marked by the same academic rigor of the University's master-level courses. However, its niche is in a two-week field study at Corrymeela, a Christian community in Northern Ireland that promotes reconciliation and healing of social, religious and political divisions.
"We look at how to participate in strategic listening and narrative analysis, and how to allow all sides to explain their perspective," explained Tyler, who is also Interim Dean of the Graduate School. "Oftentimes you're not necessarily dealing with reality, but with how people perceive reality. And that's what's important: understanding how these stories are framed."
It is precisely in navigating these complexities that the St. Mary's program shines: unpacking the events, patterns and identities at the root of a conflict, and identifying and implementing concrete, workable solutions that lead to positive outcomes.
The International Relations Department combines coursework on conflict resolution, security, policy and sustainable development within its approach, seeing each as interdependent. Tyler's expertise in religion and peace building informs much of the certificate curriculum, as well.
"I am interested in the role of religious-affiliated organizations in identity conflict – the role of religion in causing conflict, but also the role of religion in helping to heal conflicts."
From Victimization to Understanding
In June 2013, Tyler led an educational community trip to Corrymeela with members of his San Antonio Baptist church, as well as St. Mary's alumni and staff. There, they discussed topics of peace and justice from a faith perspective.
The group included Wilson Gathungu, a native Kenyan and graduate from Central Seminary in Kansas City, who learned of the trip through his institution. Gathungu would soon after enroll in the Conflict Transformation certificate program. As Tyler and Gathungu got to know each other, it turned out they had much in common in the way of peace work.
Wilson Gathungu was born in Kenya during the Mau Mau Rebellion in the 1950s, a bloody and complex conflict between Kenyan tribal groups and the British army.
"My mother was among many women who lost their husbands and sons in the war that lasted for seven years," said Gathungu. "Brought up by a widowed woman who was a victim of that violence, I learned about the horrors and the cruelty of war in narratives told in the evening around fireplaces as the meals were cooked."
Gathungu's mother avoided tough questions that would stir up emotions of revenge and hatred in the community. And her instincts were keen: All sides of the conflict were responsible for excessive brutality.
"In fear of rekindling revenge, my late mother made us believe that our grandfather's grave was our father's grave just to calm us," said Gathungu.
He later learned that the location of his own father's grave was unknown, and that his father was killed by rebels for refusing to support either side.
His mother's deftness in handling their family's history kindled his passion for achieving sustainable peace and justice, and he started a peace organization in Kenya called PRARI: Peace, Reconciliation and Rehabilitation Initiative. Gathungu invited Tyler in June 2013 to help lead one of PRARI's conferences in the city of Kamwaura. PRARI hosts workshops and conferences to train peace agents, installs community-based peace forums, and finds homes for displaced families and orphaned children.
Much of Kenya's conflict today is a consequence of decades-long political tensions and territory issues. The politics in Kamwaura are rooted in tribal identity: You stick close to your tribe, and, if you don't, there is a fear of one group overtaking another. Elections have been known to escalate to the point of physical violence in Kamwaura.
"Politicians often come through these small villages and communities close to election time," explained Tyler, "and they can stir up tribal identities, tribal animosities, narratives of victimization, resentment and even vendetta. These are issues that are not uncommon in other places, whether Northern Ireland or elsewhere."
PRARI's conference brought together Kamwaura's chiefs, elders and leaders for three days of intensive training in mediation, community-building and social action.
"We talked about how to reframe narratives of understanding," said Tyler.
The workshops also addressed how the participants could prepare their communities for election cycles when politicians would undoubtedly attempt to rekindle tribal tensions.
"We discussed how to react in a responsible and community-building way," said Tyler. "Most conflicts are identity conflicts at some level, whether they're between nations or between tribes, ethnicities or religions. When you get to some of those deeper conflicts that have religion or tribe involved, they are a lot harder to break as opposed to national conflicts, in which case elections, economics or politics can change things more quickly."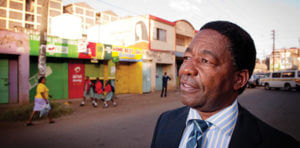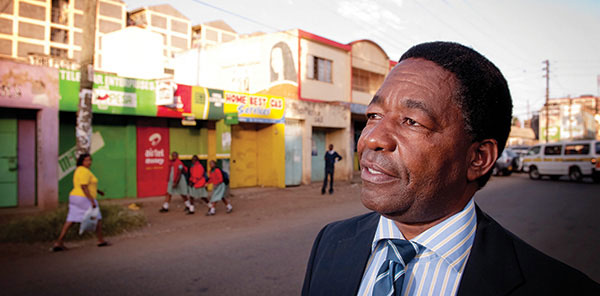 Tyler noted that the struggles that people in Kamwaura experience are not so different from those that residents in the Central Texas town of Oglesby deal with. During one exercise in Kenya, Gathungu and Tyler asked, "What is conflict?"
"They said alcoholism, domestic abuse, idleism, unemployment," recalled Tyler. "While it was a very different context and scenario, there were a lot of similarities."
Taking Off Your Shoes
To introduce difficult topics and issues surrounding peace and conflict, Tyler and Gathungu needed common ground. So, they used Bible stories like Moses in the Book of Exodus when God said, "Do not come any closer. Take off your sandals, for the place where you are standing is holy ground." Tyler proposed a similar course of action to the participants for when they encounter difficult situations.
"We set the stage with, 'this can be a sacred opportunity,' and they began to see this conflict as an opportunity to make positive change," said Tyler. "There was an emphasis on seeing themselves as Kenyan and as children of God beyond their tribal identities."
The workshops also used physical models to demonstrate how power was distributed in the participants' communities. The attendees created a sculpture that they felt represented power dynamics, and then Tyler asked, "How would you rearrange it to better represent an equitable relationship in your community?"
"It started as a quiet atmosphere, tense, a little pensive as we began to work through these stories," Tyler said. "By the end of it, there was music and celebration. It's an evolution you could see in just 72 hours. These people are working on these things with or without us. I was there to frame the learning experience; I don't come to bring them anything, but to partner and walk alongside them during it."
Soon after, Gathungu enrolled in the Conflict Transformation certificate program, receiving a scholarship to participate. Now he is part of a global network of practitioners and professionals who are committed to the human work of conflict transformation, from faith-based peace builders in Pakistan to those working with juvenile delinquents and gang members in San Antonio.
"We are there to teach, but we're also there to help create a community of activists committed to social action and constructive conflict transformation, not just locally but globally," said Tyler. "You'll study the theories, but you'll also pay attention to what others are doing in the field and learn from one another. It's a new framework of partnerships for peace building."
"Oftentimes you're not necessarily dealing with reality, but with how people perceive reality. And that's what's important: understanding how these stories are framed." – Aaron Tyler, Ph.D., who created the Academic Certificate in Conflict Transformation