For Carol Luckhardt Redfield, Ph.D., teaching isn't a one-way process. She believes that effective teaching — and learning — requires students to be engaged in the effort. Considering how much of her time and teaching centers on game development, that makes sense.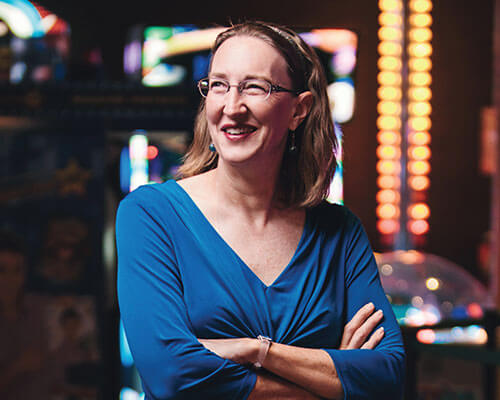 "Learning is inherently fun; let's keep it that way," said Redfield, who is a Computer Science Professor and director of the St. Mary's Computer Science graduate program. "What happened that learning became something other than fun?"
Recognizing the role games can play in learning, Redfield recently introduced a graduate certificate program in Educational Computer Gaming, making St. Mary's only the second university in the nation to offer such a certification.
"Learning is inherently fun; let's keep it that way."
Students in this program will learn to develop these kinds of games in preparation for careers in the emerging industry of game-based learning.
Her enthusiasm is obvious, and it rubs off on her students, who eagerly demonstrate the games they're creating. Redfield doesn't limit her teaching to college classes; she is a longtime volunteer at the John Jay Science and Engineering Academy (SEA), a magnet high school in San Antonio.
Her impact there has been so great that the Northside Independent School District recently saluted Redfield with an Outstanding Individual award for advancing education in the district.
"I was thrilled to be recognized for something that I love to do: educate students and provide education in STEM (science, technology, engineering and math) fields," said Redfield, who began helping at SEA when her son enrolled there in 2006.
Redfield works with the students on their science projects and recruits industry professionals to judge the SEA Science and Engineering Fair. One of her favorite things to tell students is, "Math is exercise for your brain."
Principal Jay P. Sumpter nominated Redfield, noting that her work at SEA has generated about $1.5 million in college scholarships for students. St. Mary's awards seven $40,000 scholarships annually to the fair's top winners, who then present at the University's annual research symposium.
In addition to her work with the science fair, Redfield serves on the school's advisory board, has created teacher appreciation initiatives, presents on artificial intelligence and computer game development, tutors and even coaches the Ultimate Frisbee club.
"Her commitment to excellence in STEM research at the high school level is unparalleled," Sumpter wrote in his nomination statement.
For more information on the Educational Gaming Certificate, contact Carol Redfield, Ph.D., at 210-436-3298.