February 16, 2023
Biannual event on Feb. 25 continues work with local nonprofits
St. Mary's University students, faculty, staff and alumni will volunteer across San Antonio on Saturday, Feb. 25, for Continuing the Heritage — the biannual event during which the St. Mary's community serves at partnering nonprofits throughout San Antonio.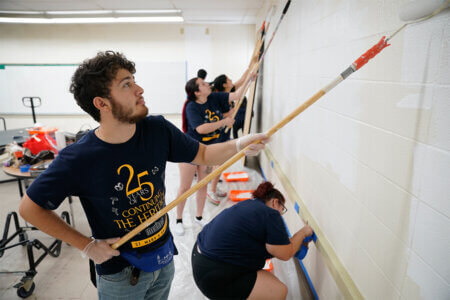 The day of service happens at the beginning of each semester and brings together volunteers for projects, such as helping make sure residents are prepared for home emergencies, assessing used books, assisting in helping with community gardens and helping with minor upkeep for children-focused locations.
The event will draw about 250 volunteers.
Volunteers will meet at the Flex Field at 7:30 a.m. on Saturday, Feb. 25, for an opening ceremony, which includes breakfast and prayer. From 9 a.m. until noon, volunteers will serve at sites including:
American Red Cross at 3642 E. Houston St. — Volunteers will assist staff in preparing for Sound the Alarm, an annual event that helps prevent home fires. St. Mary's University volunteers will canvas San Antonio's East Side neighborhood with Red Cross staff to assess home needs for fire alarm installations, and volunteers will also learn to install fire alarm systems.

Book Buddies (San Antonio ISD Foundation) at 907 Billy Mitchell Blvd. — Volunteers will assist in organizing and assessing donated books for redistribution at the Book Buddies World Headquarters.

Green Spaces Alliance of South Texas at various locations — Volunteers will benefit from the guidance of several community gardens by working together to prepare garden beds.

Roy Maas Youth Alternatives at the Meadowland, 121 Old San Antonio Road, Boerne — Volunteers will paint the fence at the home in Boerne which provides 24-hour care for children, such as meals, nutrition and education.
Since 1997, 12,897 volunteers have offered more than 52,690 hours to organizations that provide much-needed services throughout the area. Continuing the Heritage also kicks off the University's 40 Days of Lent and Service initiative.
More about 40 Days of Service
In the spirit of the Lenten season, Catholic Charities and the Catholic community of San Antonio join together for a campaign called 40 Days of Service. The goal is for every Catholic school and university in the Archdiocese to commit to service during Lent and for participants to have a meaningful service experience by offering their time and talent to assist people in need.
In 2021, the Office of Community Engagement redesigned 40 Days of Lent and Service to re-center the season and programming in the faith tradition. Designing a Lenten program that engages with fasting, prayer and almsgiving — customary practices within the Catholic Church — creates space and opportunity for the campus community to engage in faith, justice and service. Each week of Lent focuses on a specific social justice theme and members of all faiths are encouraged to participate.