March 21, 2023
Panelists include former Bexar County Judge Nelson Wolff, former City of San Antonio Councilwoman Ana Sandoval, former Speaker of the Texas House of Representatives Joe Straus and the Rev. David Garcia 
As part of St. Mary's University's commitment to seeking opportunities for dialogue to work together in the best interests of our community, the Center for Catholic Studies will present a panel discussion on Finding Common Ground for the Common Good on Wednesday, March 29.
This panel discussion will bring together public servants with years of experience navigating difficult conversations, tackling tough topics and working with others to serve the common good. The discussion is free and open to the public. It will take place from 7 to 8:30 p.m. on Wednesday, March 29, in the Sarita Kenedy East Law Library, Law Alumni Room.
The event will be moderated by St. Mary's President Thomas M. Mengler, J.D. It will feature the Hon. Nelson Wolff (B.B.A. '66, J.D. '66), former Bexar County Judge, in his first public lecture since joining his alma mater as a Distinguished Service Professor in January.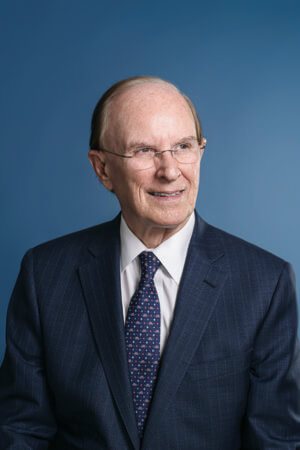 "Creating lasting change throughout my career has involved effectively collaborating with those who don't necessarily share my views or goals," Wolff said. "We live in polarized times, and this conversation will discuss how to seek compromise to benefit our community. We all have the power to change our climate to one of collaboration." 
Additional panelists include:
Ana Sandoval, Research Division, University Health System, and former City of San Antonio District 7 Councilwoman 

Joe Straus, former Speaker of the Texas House of Representatives 

The Rev. David Garcia (B.A. '71), retired priest, Archdiocese of San Antonio 
The speakers are role models for finding common ground with people who differ in their opinions or perspectives. The community is invited to learn from these experts about some of the challenges and opportunities that face all of us who want to engage in responsible citizenship and build a better world.
Those traveling to campus can park in Lot D, near the NW 36th Street entrance. For directions, visit the campus map.  
The Hon. Nelson Wolff is a retired Bexar County judge and Democratic politician from San Antonio. He represented Bexar County in the Texas House of Representatives from 1971 to 1973 and the Texas Senate from 1973 to 1975. Wolff served on the San Antonio City Council from 1987 to 1991 and then as mayor of San Antonio from 1991 to 1995. He served as Bexar County judge from 2001 until 2022. In January, Wolff was appointed as University Distinguished Service Professor at St. Mary's University.
Ana Sandoval is in a new role working on health equity issues with the University Health System as part of their research unit. Before joining University Health, she served three terms as San Antonio Councilwoman representing District 7, which includes St. Mary's University and the West Side. She has worked on climate, affordable housing, and community health and equity initiatives. Sandoval holds graduate degrees in public health and environmental engineering.
Joe Straus served as the Speaker of the Texas House of Representatives from 2009 to 2019. A Republican, he represented District 121, which comprises northeastern Bexar County, including part of San Antonio and several surrounding communities. He was first elected to the House in 2005 and retired in 2019. Straus previously served on the Management Committee of the Bexar County Republican Party as a precinct chairman and on numerous campaign committees for federal, state and local candidates. 
The Rev. David Garcia is a retired priest from the Archdiocese of San Antonio, where he served for 44 years. During that time, Garcia was instrumental in having the Old Spanish Missions recognized as a UNESCO World Heritage Site and oversaw the multimillion-dollar restoration of San Fernando Cathedral. He served as pastor for several parishes in San Antonio, including Immaculate Conception San Antonio, San Fernando Cathedral, St. Agnes San Antonio and Mission Concepción. He also served as senior adviser for clergy outreach at Catholic Relief Services, the official international humanitarian and relief agency of the U.S. Conference of Catholic Bishops.