February 22, 2022
Inlicment weather shuts down Feb. 26 day of service
The Office of Community Engagement regrets to inform everyone of the cancelation of Continuing the Heritage on Feb. 26 due to the inclement weather forecast.
In lieu of tomorrow's day of service, you are encouraged and invited to participate in Friday afternoon service opportunities as part of our 40 Days of Lent and Service. Registration for these days of service and additional programming co-sponsored by University Ministry and the Marianist Leadership Program can be found on GivePulse.
The original post can be found below.
St. Mary's University students, faculty, staff and alumni will volunteer across San Antonio on Saturday, Feb. 26, for Continuing the Heritage — the biannual event during which the St. Mary's community serves at partnering nonprofits throughout San Antonio.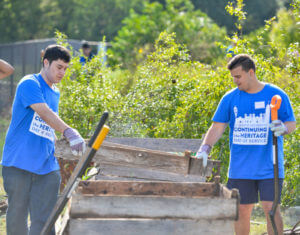 The day of service happens at the beginning of each semester and brings together volunteers for projects, such as cleaning up graffiti; improving nonprofit facilities through painting, yard work and office clean up; and packaging food and diapers for those in need. The event on Feb. 26 will draw about 250 volunteers.
Volunteers will meet at the Flex Field at 7:30 a.m. on Saturday, Feb. 26, for an opening ceremony, which includes breakfast and prayer. From 9 a.m. until noon, volunteers will serve at sites including:
Catholic Charities of San Antonio's Guadalupe Community Center at 1801 W. César E. Chávez Blvd. Volunteers will assist the Foster Grandparent team in assembling flowers for their Fiesta event in San Antonio to promote health and wellness.
Family Service Association Neighborhood Place at 3014 Rivas St. Volunteers will be gardening, painting and power washing the Neighborhood Place, a community center that supports programs for individuals and families.
Allied Women's Center at 102 Marshall St. Volunteers will create diaper boxes for clients and organize essential items for those in need.
Locke Hill Elementary at 5050 De Zavala Road. Volunteers will help throughout the Northside Independent School District's Locke Hill Elementary campus with decorating classrooms, organizing student work and preparing the school garden.
Since 1997, about 12,397 volunteers have offered more than 51,191 hours to organizations that provide much-needed services throughout the area. Continuing the Heritage also kicks off the University's 40 Days of Lent and Service initiative.
More about 40 Days of Service
In the spirit of the Lenten season, Catholic Charities and the Catholic community of San Antonio join together for a campaign called 40 Days of Service. The goal is for every Catholic school and university in the Archdiocese to commit to service during Lent and for participants to have a meaningful service experience by offering their time and talent to assist people in need.
In 2021, the Office of Community Engagement redesigned 40 Days of Lent and Service to re-center the season and programming in the faith tradition. Designing a Lenten program that engages with fasting, prayer and almsgiving — customary practices within the Catholic Church — creates space and opportunity for the campus community to engage in faith, justice and service. Each week of Lent focuses on a specific social justice theme and members of all faiths are encouraged to participate.