April 5, 2021
Jenna Saucedo-Herrera will speak virtually on Thursday, April 8
Jenna Saucedo-Herrera (B.B.A. '09), president and CEO of the San Antonio Economic Development Foundation (SAEDF), will culminate the St. Mary's University 2020-2021 Forum on Entrepreneurship Series on Thursday, April 8.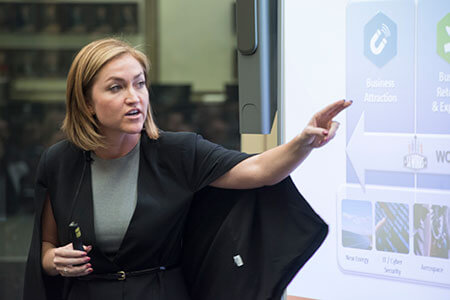 Her session "Courage to play, Vision to win, are you All In?" will focus on the San Antonio region's bold new economic development strategy to grow jobs, develop people and elevate the quality of place. The collaborative regional strategy led by SAEDF is projected to bring 140,000 new jobs, $8 billion in new wages, and 200,000 new degrees and certifications to the San Antonio region over the next five years. The Meadows Center for Entrepreneurial Studies at St. Mary's will host the discussion via Zoom from 8 to 9 a.m. Thursday.
"As an alumna of the Greehey School of Business at St. Mary's University, Jenna exemplifies our mission of transforming students into ethical leaders with a passion for serving the common good," said Stephanie Ward, Ph.D., Interim Dean of the Greehey School of Business and Professor of Management. "Her work as president and chief executive officer of the San Antonio Economic Development Foundation directly impacts our city by expanding the economic opportunities for everyone in our great city. This is the Greehey School of Business' mission in action."
In her capacity as SAEDF's president and CEO, Saucedo-Herrera works with a talented team to advance the diversification and growth of the San Antonio regional economy through domestic and international business development, workforce development, partnerships and market strategies.
During her tenure, SAEDF has secured more than 18,000 jobs from 84 projects that include EY, Victory Capital, Booz Allen Hamilton, Hulu, OKIN BPS, TJX, Navistar and Aisin AW.
"It's an honor to have Jenna Saucedo-Herrera as our executive speaker to close the 2020-21 series," said Sergio Palacios, Ph.D., Associate Professor of Management and Chairman of the Board of the Forum on Entrepreneurship Series. "As one of our most visible alumni, her success and accomplishments, such as becoming CEO of the SAEDF, during the first decade after graduating from St. Mary's, make her an outstanding role model for our students!"
More about Saucedo-Herrera:
While attending St. Mary's, Saucedo-Herrera was a standout student and captain of the Rattlers Softball team. Her first job was interning with CPS Energy. After graduation, she earned a full-time position as a business analyst and, in six years, became the youngest vice president in the company's 73-year history.
As CPS Energy's vice president of public affairs and brand management, Saucedo-Herrera managed three departments including corporate communications and marketing, corporate social responsibility, and economic development. She reported directly to CEO Paula Gold-Williams (B.B.A. '84).
Saucedo-Herrera has received accolades including the "2015 Women in Leadership Award" and the "2017 40 Under 40: Woman of the Year Award" from the San Antonio Business Journal, acknowledgment by the San Antonio Express-News in its "2016 Women Who Run San Antonio" feature, and recognition in Culturemap's "Top Texans Under 30."
More about the Forum on Entrepreneurship Series
The Meadows Center for Entrepreneurial Studies promotes and encourages entrepreneurial thought, business and activities locally, regionally and nationally. The purpose of the Forum on Entrepreneurship Series is to offer the larger San Antonio community and students of St. Mary's University a forum to hear from some of the most talented individuals in industry and government. Funds generated from the series support student scholarships and encourage entrepreneurial activities in San Antonio and the region.
After the April 8 event, the series will continue with discussions in Fall 2021. The series' 2020-2021 title sponsor is PwC.
For information on registering for the event and sponsorship opportunities, please contact Pamela Luna at forum@stmarytx.edu or 210-436-3124.