August 17, 2021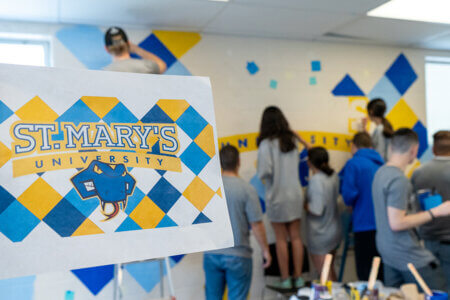 One of incoming students' first activities at St. Mary's University will be to join St. Mary's community members — students, faculty, staff and alumni — to volunteer across San Antonio. The biannual service event called Continuing the Heritage will take place on Saturday, Aug. 21.
The service event brings together the University community to volunteer for projects, such as yard work, office clean-up, sorting donations, and packaging food and diapers for those in need.
Last year, the St. Mary's Office of Community Engagement adapted the event online to engage in conversations on social justice and faith-driven leadership. The event Saturday marks a return to in-person service.
Volunteer registration closes Thursday, Aug. 19, at 5 p.m. Volunteers can register through GivePulse, a database that connects volunteers with opportunities. To register, click the button below and log in using St. Mary's credentials. Select a service location to register for that location. Masks are required for all indoor activities and at all times during transportation.
Volunteers will gather on the Flex Field at The Park at St. Mary's at 7:30 a.m. Saturday, Aug. 21, for an opening ceremony, which includes breakfast and prayer, before beginning their morning of service. From 9 a.m.-noon, they will serve at sites including:
Catholic Charities of San Antonio's Guadalupe Community Center at 1801 W. César E Chávez Blvd. Volunteers will help by power washing, gardening, organizing donations and making calls to isolated seniors.
Texas Diaper Bank at 1803 Grandstand Drive, Suite 150. Volunteers will help repackage diapers or prepare donations for distribution to our clients who receive assistance from the Texas Diaper Bank and its 54 partner agencies.
Haven for Hope at 1 Haven for Hope Way. Volunteers will assist with cleaning sleeping mats and interact with clients who are experiencing homelessness in the emergency shelter.
Locke Hill Elementary at 5050 De Zavala Road. Volunteers will organize and clean classrooms in preparation for the school year.
House of Neighborly Service at 407 N. Calaveras. Volunteers will help install a covering for the playground and assemble a storage unit.