January 22, 2021
The Theology Department at St. Mary's University received a $25,000 grant from the Catholic Biblical Association and Confraternity of Christian Doctrine to "foster love and explorations of Scripture in the Catholic communities of San Antonio and beyond," said Professor and Chair of Theology Todd Hanneken, Ph.D.
The money is funding a yearlong undertaking the department called La Biblia Project, which will involve the efforts of Theology faculty, student researchers and collaborators at the Oblate School of Theology and the Mexican American Catholic College to develop three full-day workshops.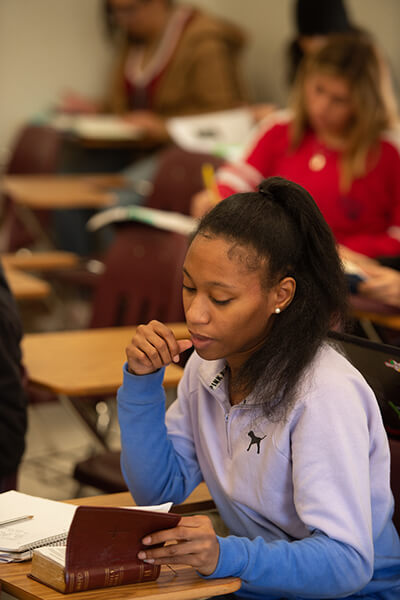 During the workshops — all of which will be recorded, translated into Spanish and uploaded in a digital repository — specialists will deliver lectures on the topics of Mary, Advent and navigating the modern world.
Hanneken said lectors, catechists, students and "anybody working for a small parish serving people who speak two languages can watch these videos, then apply the messages to their community."
According to Hanneken, the creation of La Biblia Project is partially in response to Pope Francis' recent declaration of an addition to the Catholic Liturgical Year — "The Sunday of the Word of God" — which takes place on Jan. 24, celebrating how the risen Jesus opened his disciples' minds to understand the Scriptures.
Allison Gray, Ph.D., Associate Professor of Theology and Greek, said La Biblia Project is especially relevant for the St. Mary's community because "Catholics read the Bible as members of a community."
"No one is reading in a silo, we have dialogues with one another, and our approach is communal," Gray added.
While the COVID-19 pandemic has changed the way people communicate with each other, Hanneken said, "we've gotten used to the idea of technology connecting us more spiritually."
"People are still talking about the Bible, using it to support their ideas and arguments, so learning to read it better empowers them and helps them become responsible readers," Gray said.