February 25, 2019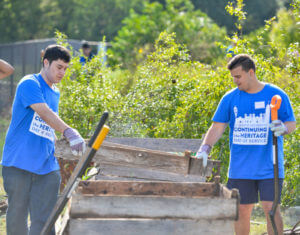 Nearly 500 St. Mary's University students, faculty, staff and alumni will volunteer across San Antonio on Saturday, March 2, for Continuing the Heritage — an official service event that kicks off the University's 40 Days of Lent and Service initiative.
The biannual service day brings together the University community to volunteer for projects, such as cleaning up graffiti; improving nonprofit facilities through painting, yard work and office clean-up; and packaging food and diapers for those in need.
Since 1997, about 12,000 volunteers have offered more than 50,000 hours to organizations that provide much-needed services throughout the area.
San Antonio volunteers will gather on the Flex Field at The Park at St. Mary's at 7:15 a.m. for an opening ceremony, which includes breakfast and prayer, before beginning their morning of service. From 9 a.m.-noon, they will serve at sites including:
Catholic Charities of San Antonio's Guadalupe Community Center at 1801 W. Cesar E. Chavez Blvd. Volunteers will clean up the food pantry, clothes closet and the community garden.
Refugee and Immigrant Center for Education and Legal Services (RAICES) Community Education Center at 802 Kentucky Ave. Volunteers will paint the community gathering spaces, and clean and clear office spaces of boxes and old furniture.
Texas Diaper Bank at 1803 Grandstand Drive, Suite 150. Volunteers will help repackage diapers and wipes for our clients who receive assistance from our office and for our 35 partner agencies.
Islamic Academy of San Antonio at 8638 Fairhaven St. Painting, cleaning up, and organizing different classrooms, such as a science lab, and the school cafeteria.
No Graffiti SA at several locations. Volunteers will be split into smaller teams to pull off stickers and paint over graffiti on dumpsters, retaining walls, etc.
More about 40 Days of Service
In the spirit of the Lenten season, Catholic Charities and the Catholic community of San Antonio have joined together for a campaign called 40 Days of Service. The goal is for every Catholic school and university in the Archdiocese to commit to service during Lent and for participants to have a meaningful service experience by offering their time and talent to assist people in need.
Service opportunities include mentoring, organizing donation drives, stocking food donations, tutoring children, distributing food, painting, landscaping, and assisting veterans and seniors. For more information on other 40 Days of Service activities, contact Catholic Charities at 210-222-1294 ext. 2210 or email Tom Harper at tharper@ccaosa.org.