May 20, 2019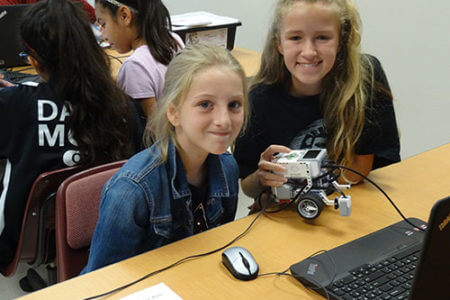 St. Mary's University will shift its robotics camps into gear again this summer. The Texas Workforce Commission recently selected St. Mary's as one of 16 universities and community colleges to receive a grant providing student scholarships for STEM summer camps.
The St. Mary's award totaled $69,397, which covers 80 scholarships for middle and high school students interested in attending the two-week Pre-Engineering Robotics and Java Summer Camp for free.
Camp director Wenbin Luo, Ph.D., Professor of Computer Engineering, who has successfully enrolled the camp to capacity every year for more than a decade, said the grant is "a testimony of the excellent work we have been doing for years."
"The quick filling up of our summer camp demonstrates the good reputation of St. Mary's in the STEM fields," Luo said.
During the camp, students participate in hands-on activities involving robotics, programming and problem-solving using Lego Mindstorms NXT kits. They also take a field trip to observe engineers working in the field.
"Summer camps are a great way to inspire and develop the STEM human capital of the future," said Winston Erevelles, Ph.D., Dean of the School of Science, Engineering and Technology. "These are opportunities for the youth in our region to immerse themselves in a fun and challenging environment, surrounded by like-minded peers, and taught by incredibly talented faculty."