November 7, 2018
by Anndria Flores (B.A. '12, M.A. '16)
Act 1, Scene 1: The question of the film star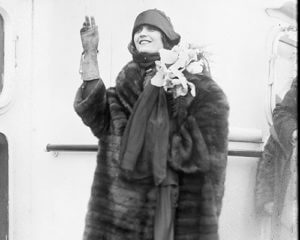 "Do you know about Pola Negri?"
When the Rev. J. Willis Langlinais, S.M., asked the question of Associate Professor of Drama Bernadette Hamilton-Brady in 1994, the answer was an emphatic and unsurprising "no." She had yet to meet the dark-haired, sly-eyed beauty who rose to fame as a film star during the silent and golden eras.
She recalled Langlinais saying, "You need to talk to Father Louis Reile about her because she was this huge Hollywood star and was good friends with him."
Intrigued by the tip to speak with Reile and find Negri's items and films in the St. Mary's University archives, Hamilton-Brady wanted to investigate. But she knew she'd need time to commit to researching Negri's life.
Act 1, Scene 2: Beauty and mystery
When Langlinais referred to Negri as a huge Hollywood star, he wasn't exaggerating.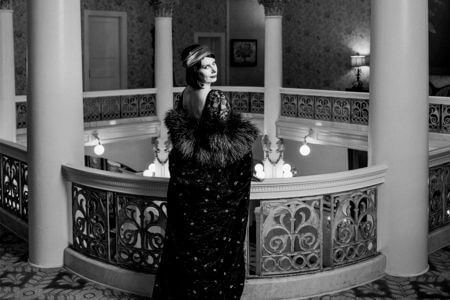 In the early 1920s, Negri entered the United States film arena at the peak of her European film career after starring in the 1919 film Madame Du Barry. The Polish actress captivated people with her beauty, mystery, fashion-forward looks and love affairs — making headlines alongside actors Charlie Chaplin and the love of her life, Rudolph Valentino. She starred in films such as The Cheat (1923), Men (1924), Forbidden Paradise (1924) and Hotel Imperial (1927).
According to the New York Times, just before the crash of 1929, Negri's personal fortune was estimated at $5 million, a large share of which she would later lose through bad investments by second husband, Georgian prince Serge Mdivani, whom she divorced.
Negri was later cast in her first talkie, A Woman Commands (1932), which didn't fare well for her financially. However, Negri's vocals in the film attracted a well-paying, cross-country vaudeville gig. At the end of her tour, an exhausted Negri joined fellow film actress Marion Davies at William Randolph Hearst's estate in California. While there, Negri received word of an opportunity to make a film in Berlin titled Mazurka (1935).
But her work in Germany was cut short by the onset of World War II, leading her back to the U.S. where she met her good friend, former radio star Margaret West — with whom she lived from 1948 to 1963.
In April of 1957, West brought Negri to San Antonio to visit her family. It was Negri's first time in the city, and she was enchanted by Fiesta.
In Negri's autobiography, Memoirs of a Star, she recounted the last day of her visit as she stood on her bedroom balcony at the Menger Hotel viewing the Fiesta Flambeau Parade: "It's all been such heaven. You know, someday, I wouldn't mind living here."
Two years later, after a dull Hollywood party, the two friends were ready for a change of scene and agreed to leave their high-profile Bel Air neighborhood in California for San Antonio.
In her autobiography, Negri referred to her new neighborhood as, "the fashionable suburb of Olmos Park … that in many ways resembles Beverly Hills."
Act 2, Scene 1: Rediscovering a star
In 1999, while preparing a sabbatical research proposal, Hamilton-Brady, M.F.A., Chair of the St. Mary's University Drama Department, found herself in the University archives Langlinais mentioned, conducting preliminary research and uncovering original film reels, personal correspondence and other items which belonged to Negri.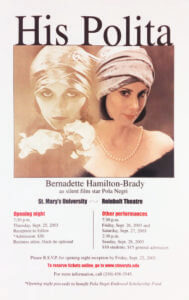 "I was so intrigued by her life," Hamilton-Brady said. "I also had several connections with her — being Polish, Catholic, our dance backgrounds and, of course, theater."
She also interviewed Reile (B.A. '49) twice to gain a better understanding of Negri's essence. Reile, who passed away in 2002, was Negri's friend and confidant for nearly 20 years — from their introduction just prior to the Hemisfilm International Festival and World's Fair in 1968 until the star's death in 1987.
"She was so successful in her career, but was very unlucky in love," said Hamilton-Brady, whose sabbatical research focused on Negri's life and romances.
Hamilton-Brady culminated her research in 2003 by writing and starring in a one-woman production at St. Mary's titled, His Polita. Hamilton-Brady recreated events from Negri's life documented in her autobiography, personal correspondence and documents in the University archives. The performance even drew Negri's lawyer and executor to attend.
Hamilton-Brady dedicated the proceeds from her one-woman show to a St. Mary's scholarship fund that the generous star had established in her will for St. Mary's students in any field of study. Negri also willed St. Mary's 30 percent of the proceeds from the sale of film rights to her autobiography.
Act 2, Scene 2: A kid in the archival candy story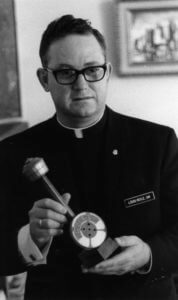 Last spring, Hamilton-Brady found herself dusting off old research notes to present at the Filmoteka Narodowa-Instytut Audiowizualny (FINA) International Conference in Warsaw, Poland, which focused on Negri's private persona.
Her presentation shed light on Negri's life in San Antonio, which is largely unknown in Europe. Through her research, Hamilton-Brady learned of Negri's love for San Antonio's culture, especially its theater performances and symphony.
Hamilton-Brady's presentation in Warsaw was followed by another in Lipno, Poland — Negri's birthplace — at the "Pola i inni" Film Festival. While preparing, Hamilton-Brady found herself back in the University archives making a new discovery.
"I found this little piece of paper that mentioned an unpublished biography written by Father Louis Reile on Pola Negri."
A colleague encouraged her to visit the National Archives of the Marianist Province of the United States, which were relocated to St. Mary's University in 2014.
In the archives, Hamilton-Brady resurrected the unpublished biography titled, The Lady I Loved, in which Reile shared 151 pages on Negri's life. Over the course of their 20-year friendship, Negri grew to trust Reile to write her biography.
"I was like a kid in a candy store," Hamilton-Brady said of the find.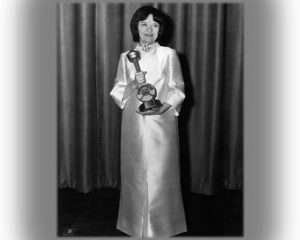 Among his personal and professional documents, Reile's archived possessions shed light on his passion for cinema. A pioneer of his time, Reile created and served as the director of the Hemisfilm International Festival and created an impressive 11 cinema courses at St. Mary's.
In 1968, San Antonio became the official site of the World's Fair and celebrated the 250th anniversary of the City's founding, which Reile tied to Hemisfilm, sponsored by St. Mary's University.
Negri's appearance as an official Hemisfilm "Hemi Award" recipient made headlines.
In an article from 1968 in the San Antonio Light newspaper, Glenn F. Tucker wrote, "The biggest news of the week, perhaps of the year as far as I'm concerned, was the announcement that the great Pola Negri would come out of seclusion this year in San Antonio."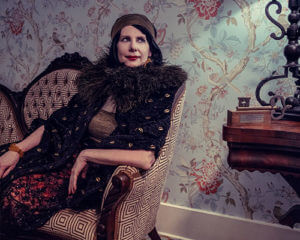 "It took a priest to do it, though, herein lies the hidden beauty of it," Tucker continued. "Except for a brief shot in Walt Disney's science-fiction film, The Moon-Spinners four years ago, Miss Negri, who has resided in our city for some years, was virtually a recluse for nigh onto 40 years, practically since the death of Valentino."
Negri was honored to receive the Hemi Award; one she remarkably didn't turn down in 1968 when Reile met Negri for the first time and asked her to be recognized as the greatest star of the silent film era.
In her autobiography, Negri references the receipt of the Hemi Award and the German Film Prize, the highest and most esteemed award in the German film industry, stating, "There were two awards given late in my life by the two countries in which I had achieved the greatest part of my fulfillment and celebration as an artist. How fortunate I considered myself that they both still remembered and acknowledged my contribution."
Act 2, Scene 3: Star's research draws spotlight
When Hamilton-Brady arrived in Lipno, prepared with new findings, her visit attracted the media spotlight. Not only was her presentation televised, but she also attended interviews and received gifts — even the key to the city from Lipno's mayor.
"It was magical," she said.
Hamilton-Brady said the gesture also served as an invitation for both San Antonio and Lipno, which share the same patron saint, Saint Anthony, to connect.
As she finalizes her research this year by penning an essay on her presentations abroad, Hamilton-Brady strives to keep the arts alive, as she has for the past 30 years, by teaching future generations of theater students.
"We have the opportunity to be the beacon for (theatrical) activity around this area in San Antonio."
"We have the opportunity to be the beacon for (theatrical) activity around this area in San Antonio," said Hamilton-Brady — just as Reile and Negri and the star's many fans would have wanted.