September 6, 2018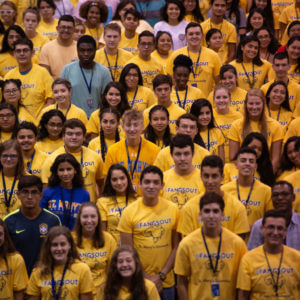 This fall, St. Mary's University welcomed 640 new freshmen — among the largest classes in University history and among the most academically gifted.
"Our mission is to offer students an opportunity to come, learn, discover their passion and go out and change the world," said Rosalind Alderman, Ph.D., Vice Provost for Enrollment Management. "We believe in that mission very strongly. Having very strong classes back-to-back allows, not only for those students to have an excellent education, but it also allows the institution to continue to provide a really high-quality experience."
The academic qualifications of incoming freshmen have continued an upward trend over the past few years.
The average SAT score for incoming freshmen rose to 1168 in Fall 2018, which is a 3.5 percent increase since Fall 2015. The average GPA for incoming freshmen rose to 3.6 in Fall 2018, an increase of about 4.7 percent since Fall 2015. The number of students entering the Honors Program nearly doubled to 40 this fall as well.
Alderman attributes the increase in academic qualification to the University's "transparent, robust scholarship awarding process," which helped students see what they qualify for at the time of admission.
"We believe more students have applied because they can see the scholarship amounts they would likely receive with their academic record," she said.
The incoming class also represents greater geographic diversity — including students from 21 states and Puerto Rico, as well as 15 countries.
"The makeup of the class, especially when you're talking about diversity of backgrounds, gives vibrancy to campus and allows for the educational experience to be much richer," Alderman said.