April 5, 2017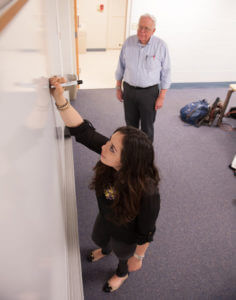 Economists Gastón Sosa de la Torre and Marisol Arteaga Gonzalez have given $1 million to the St. Mary's University School of Humanities and Social Sciences to endow the Roy Robbins Professorship in Economics.
The couple wanted to show their gratitude to their former professor, Roy Robbins, Ph.D., for his lasting influence on them.
"Dr. Robbins has left a mark both in my personal life and in my professional career," Arteaga Gonzalez said. "He has been a mentor who motivates me to believe in myself and to strive for what is right. I think the most important thing I have learned from him is to love the subject of economics – a great instrument that can be used to help achieve a better society."
Sosa de la Torre and Arteaga Gonzalez met while attending St. Mary's and, now married, have remained close with Robbins, who has been a St. Mary's faculty member since 1983.
"Professor Robbins inspired me and Marisol to look beyond what was necessary to finish our degrees," Sosa de la Torre said. "He pushed us to attend graduate school, to go to the East Coast, to not remain satisfied with a bachelor's degree. He was a tough, but fair, professor who always encouraged us to think beyond our surroundings and our comfort zones. He has been a true guide and an inspiration to us."
A formal announcement of the professorship is planned for Monday, April 10, at 3 p.m. in the University Center on campus.
"This is a very humbling experience for me, and I am honored and grateful," Robbins said. "The generosity of Gastón and Marisol in establishing this professorship will enable us to emphasize studies on the Texas-Mexico border and the economies of Mexico and Latin America. It obviously benefits the Economics Department and St. Mary's University now, but those benefits will extend far into the future for many students and other communities."
With this professorship, St. Mary's is poised to further its standing in the Southwest as a premier institution to study economics. The regional economy and U.S.-Mexico/Latin American economic relations will be a focus of the economics curriculum.
"It's a touching gesture for Gastón and Marisol to recognize Roy in this way," said St. Mary's President Thomas Mengler, J.D. "The professorship will honor Roy's commitment to our students for generations to come, as well as highlight St. Mary's as a center for economic studies between the U.S. and Latin America."
Gastón Sosa de la Torre graduated magna cum laude from St. Mary's with his bachelor's degree in Economics and Political Science in 1992, and he earned an MBA from the Yale School of Management. Marisol Arteaga Gonzalez graduated summa cum laude from St. Mary's with a B.A. in Mathematics and a B.A. in Economics in 1991. Both hold master's degrees in Economics from the Yale Graduate School of Arts and Sciences.
Sosa de la Torre, a former Salomon Brothers and Citigroup investment banker, is chairman of Aktiva Capital and subsidiaries with investments in the financial services industry, oil and gas, commercial real estate developments, IT services and educational services.
Arteaga Gonzalez is a social entrepreneur in Mexico. She and Sosa de la Torre established the Jaime Arteaga Scholarship Fund in 2005 to benefit St. Mary's students and honor her father.
More about the professorship
For more than three decades, Roy Robbins, Ph.D., has developed undergraduate courses that explore environmental and natural resource economics. He has guided students in exploring community development, crime reduction, and equal employment opportunities.
To be appointed to the Roy Robbins Professorship in Economics, a professor must have special expertise in U.S and Mexico/Latin American economic relations and teach related courses. The professor should promote the interdisciplinary study of U.S.-Mexico relations. The professorship, renewable every two years, will help support salary, travel, research and continuing education for the faculty member.