March 6, 2017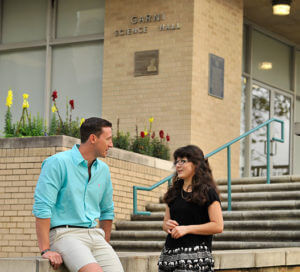 The School of Science, Engineering and Technology at St. Mary's University recently received $1 million in donations from alumni David Biegler and Jack Biegler.
A gift of $500,000 by David Biegler and his wife, Diane Knape, will enhance laboratories and buildings. Jack Biegler donated an additional $500,000 to be used for student scholarships.
"We are honored to accept these important gifts from David and Jack Biegler and their families," said St. Mary's President Thomas Mengler, J.D. "Our students in science, technology, engineering and math programs will have tangible reminders of the Bieglers' dedication to them and to their alma mater."
A plaque in remembrance of Brother William Hamm, S.M., will be placed in a renovated physics lab, at the request of David Biegler (B.S. '68), who was a physics major at St. Mary's.
"Each of us wants to make a difference in this world," David Biegler said. "St. Mary's University did that for me by showing the way and then enabling a college education. I want to make the same difference in the lives of those who follow. The opportunity to make this gift makes that possible for me."
David Biegler is retired after a long career in the energy industry and continues to serve as a director of several public and not-for-profit entities. He is currently a member of the St. Mary's Board of Trustees.
Jack Biegler (B.B.A. '65) is an investor and a former real estate development executive. He currently is chairman of Capstead Mortgage Corporation, a real estate investment trust in Dallas. He is a former chairman of the St. Mary's University Board of Trustees.
"My two brothers and I had a great experience at St. Mary's," Jack Biegler said. "We wanted to not only give back to the University, but also honor our mother and father, who were dedicated to ensuring that their four children got a college education. It was wonderful that we were able to do both at the same time."
In 1996, David, Jack and Walter Biegler (B.B.A. '68), and their sister, Joyce Biegler Russell, established a scholarship endowment at St. Mary's in memory of their parents. The Joe and Lucille Biegler Scholarship Fund is aimed at dependents of San Antonio Fire Department employees. The three brothers graduated from Central Catholic High School in San Antonio.
"We are grateful to David and Jack Biegler for their generous support of SET and St. Mary's University," said Dean Winston Erevelles, Ph.D. "Their support will help us enhance our facilities and help implement our vision for excellence in the School of Science, Engineering and Technology."