December 16, 2016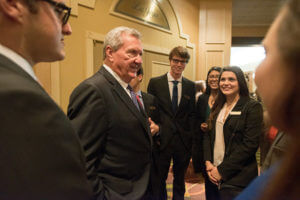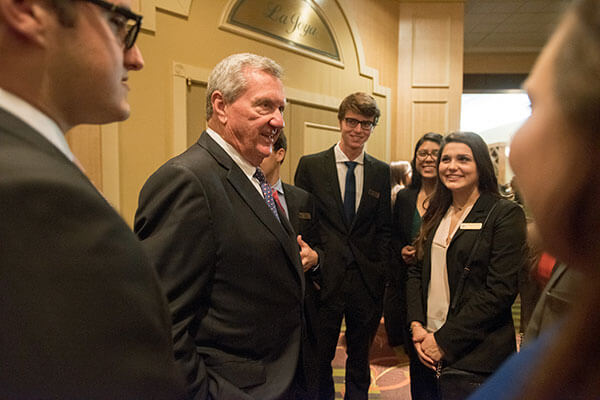 For the third year in a row, St. Mary's University has received a $1 million gift from alumnus and philanthropist Bill Greehey (B.B.A. '60) to benefit the Greehey Scholars Program, a unique undergraduate program that focuses on servant leadership.
Greehey has long been a benefactor of St. Mary's. He has donated $3 million since 2014 to further develop the Greehey Scholars Program, and he also gave $1 million in 2012 to help revamp the University's MBA offerings. In 2005, his $25 million gift resulted in the naming of the Greehey School of Business and funded academic and scholarship programs to attract world-class faculty and students.
"So many St. Mary's students – past, present and future – can point to Bill Greehey as a key to their academic success," said President Thomas Mengler, J.D. "We are truly blessed to have Mr. Greehey as our friend."
The Greehey Scholars Program, established in 2006, blends traditional learning methods with hands-on leadership training. The scholars are involved in all aspects of the St. Mary's community, and they learn to be ethical leaders through business interaction experiences as well as community service with organizations such as Each One Teach One, San Antonio Youth Literacy, St. Vincent de Paul's, Humane Society and the Volunteer Income Tax Assistance (VITA) Program.
Scholars also distinguish themselves by participating in fundraisers, retreats, internship opportunities, professional development events and service-immersion trips.
The impact of Mr. Greehey's generous gifts can be seen in everything we do in the Greehey School of Business. It is reflected in the quality of our students and faculty and the quality of our programs. It has enabled us to compete with some of the best programs in the country, and the success of our students in the marketplace shows it clearly.

Dean Tanuja Singh, D.B.A.
"We are incredibly grateful for his support and his continuing generosity, which enables us to live our mission of changing lives and building a better world grounded in faith, values and service."
More about Bill Greehey, from his bio
Greehey served as the founding CEO of Valero Energy Corp. for 32 years before the spinoff of NuStar in 2006. In addition to the gifts mentioned above, he and Valero employees also established the $1.5 million Greehey Endowed Chair of Business Ethics and Corporate Social Responsibility at St. Mary's. The Greehey School of Business has been consistently ranked among the Best Business Schools in the Nation by the Princeton Review.
Greehey also gives much of his time and service to St. Mary's, having served on its Board of Trustees and led fundraising initiatives to help transform the University. These efforts included a capital campaign to build the Alumni Athletics & Convocation Center in 2000, which included a $1 million personal gift from Greehey. He also led a campaign to raise $4 million to beautify and restore the historic campus.
In 2008, he led the effort to secure $6 million in funding through the Bexar County venue tax vote to help build The Park at St. Mary's outdoor sports complex. Based on his decades-long support of the University and his professional and civic achievements over the years, Greehey has received the University's Distinguished Alumnus Award and an honorary doctorate (the Doctor of Laws Honoris Causa).
Growing up in Fort Dodge, Iowa, Greehey dreamed of a college education, but he was raised in a poor, working-class family that could not afford to send him to college. In fact, no one from his family or neighborhood had ever gone to college. So after he graduated from high school, he joined the Air Force so that he could go to college on the GI Bill. After four years of military service, he put himself through St. Mary's University and achieved numerous academic honors while working nights and weekends parking cars at the Nix Hospital to support his young family.
After college, he went on to a renowned business career in which he directed Valero's growth from a small, regional natural gas company into the largest refining company in North America, which was ranked No. 15 on the Fortune 500 when he retired as CEO at the close of 2005. As Chairman of NuStar Energy, Greehey led its separation from Valero, and under his leadership, NuStar has also achieved dramatic growth and success.