October 21, 2016
Additional benefactor, Grunwald, leaves $350,000 to student veterans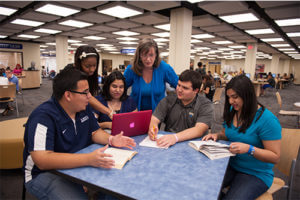 Two donors who wish to remain anonymous have given St. Mary's University a planned estate gift of $2.8 million to recognize Mexican-American literature, support the faculty of the English Department, and provide scholarships to Mexican-American students majoring in the humanities.
The couple wants future generations of students to develop an appreciation for Mexican-American fiction, non-fiction and poetry. One of the donors is a graduate of St. Mary's.
The University also has received a $350,000 estate gift from Dr. Walter Grunwald to establish an endowed fund for a Veteran Student Success Center on campus.
Grunwald's bequest honors the balance between academics and military service. He served in the Jewish Brigade of the British Army in Israel after fleeing Nazi-occupied Vienna, then moved to the United States in 1947 and joined the U.S. Air Force. He earned a bachelor's degree in Sociology from St. Mary's in 1957.
The Veteran Student Success Center will meet the needs of veteran and active military students at St. Mary's. It will provide a single point of contact for services including career advising, benefits coordination and counseling programs, while creating a space on campus for veterans to build a community. In the past academic year, about 200 students receiving Veterans Affairs funds attended St. Mary's.
For more information about estate gift planning, visit plan.stmarytx.edu or contact Rick Kimbrough, Vice President for University Advancement, at 210-436-3791.