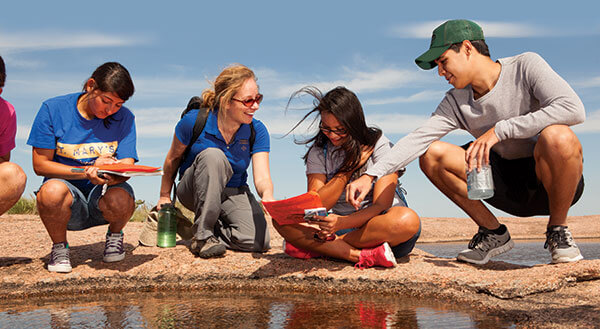 By Andrew Festa
In the new Environmental Science program, classrooms don't always have walls.
For professors Evelyn Mitchell, Ph.D., David Turner, Ph.D., and Melissa Karlin, Ph.D., who are leading the School of Science, Engineering and Technology's newest degree program, the world is their laboratory. And while textbooks are still important, they also find use for painted ants, shopping centers, caves and sea monkeys. Seriously.
On a crisp and windy day in October, 54 students traveled to Enchanted Rock State Natural Area near Fredericksburg. Turner and Mitchell led the hike while explaining the prehistoric processes that formed the rock all around them. The lesson included up-close looks at plant and animal life, including tadpoles and brine shrimp — also known as sea monkeys — in ephemeral pools of rainwater.
On another learning expedition this fall, Turner and Mitchell took a group to a decidedly less exotic location: Bandera Pointe Shopping Center, just a few miles from St. Mary's, where a geological bonanza is tucked behind an urban big box store. The group, mostly underclassmen Environmental Science majors, was asked to sketch or photograph the layers of a massive rock outcropping and draw conclusions about the folding and faulting of its features.
"I like geology because it's like being a detective," said Camila Acchiardo, a junior International Relations major working on an Environmental Science minor. "Dr. Turner can tell you all about what it is and how it got there."
Karlin, the University's first ecology expert, also leads young detectives. She came to St. Mary's this fall from North Carolina, where she tracked and studied endangered red wolves. It was only natural she develop something similar here: create a lab in which students paint and track ants.
"My goal with the students is to introduce them to the plant and wildlife issues that are a part of other issues in environmental science," Karlin said. The faculty encourages a diverse educational experience, urging students to select electives that nourish their interests and goals.
"Environmental science is a multidisciplinary field by nature, so within our department we're trying to bring in faculty with different experiences so that we can share that with the students. They can benefit from all those experiences going out into the world," Mitchell said.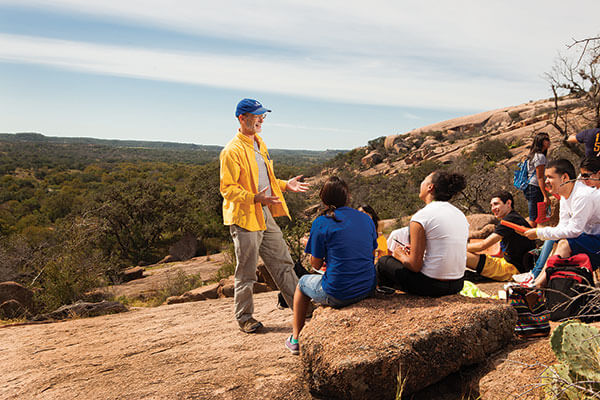 An Environmental Boom
The environment is a hot topic in South Texas, where names like Eagle Ford Shale and Edwards Aquifer are often in headlines. You don't need to be a news junkie to know that global warming, energy consumption, oil spills, droughts and floods are frequent talking points.
To address the need for experts in these subjects, Mitchell came to St. Mary's in 2008 to start a program that would prepare students for successful careers in environmental fields. Classes began in the fall of 2011.
The job market for environmental scientists is booming. Large corporations, as well as federal and state government agencies, employ them, and the U.S. Bureau of Labor Statistics predicts a 19 percent increase in jobs for environmental scientists and specialists between 2010 and 2020.
"If this is going to be a big career opportunity for the next generation," Mitchell asked herself, "why would we not want to offer that as an option to our students?" If we don't offer it, she wondered, which schools will students choose instead of St. Mary's? "I had a number of students beating on my door asking, 'When is this starting so I can transfer to that major?' "
Several freshmen have said the program attracted them to St. Mary's.
"The program was definitely a big part of my decision," said freshman Whitney O'Connell, an Environmental Science major.
Geosciences, chemistry and ecology are now options for students pursuing a Bachelor of Arts or Bachelor of Science.
"I wanted to be a geology major, and this was the closest thing," said Cody Boazman, a transfer student in his first semester at St. Mary's. "But once I started the program, I liked it better because it gives you more job options."
The program seeks to place students into internships so they'll gain experience, access to mentors and a professional network. Past interns have worked at Southwest Research Institute (SwRI), Northeast Independent School District, and the St. Mary's Environmental Health and Safety Office.
"The Environmental Science program was launched after extensive consultation with government agencies at the local, state and federal levels; and research and consulting firms," said Dean Winston Erevelles, Ph.D. "The program is now in its second year and growing rapidly. I am confident that this program will continue to grow and serve the mission of our University and region."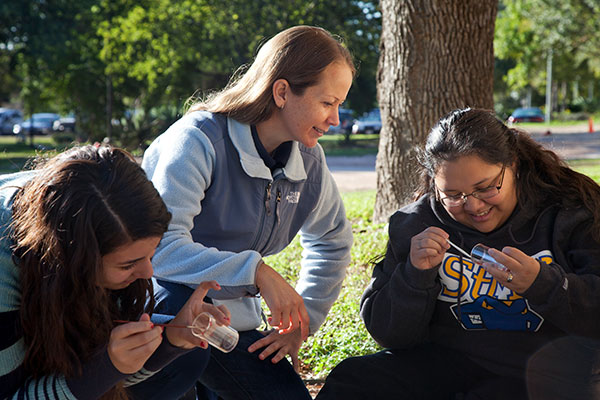 A Wealth of Urban Discovery
Because so many of San Antonio's creeks and rivers have been turned into concrete channels, Turner hopes the University can assist local river ecosystem restoration projects similar to the San Antonio River Authority's Mission Reach, Museum Reach and Westside Creeks Restoration Project efforts. For example, did you know the concrete "moat" on campus is actually Apache Creek?
"St. Mary's is in an urban environment," said Turner, who has 20 years of experience and was a SwRI staff scientist. "So we look at the geology and geochemistry of that urban environment and how it might interact with the local ecology."
A faculty development grant will allow Turner to offer a geochemistry class in the spring. Students will collect and analyze water samples from local water systems and study urbanization's effects on water quality.
"I took an environmental science class my senior year of high school, and it opened my eyes about human activity's impact on the world — positive and negative," O'Connell said. "I want to work on the positive to protect the environment and keep things clean."
Learning opportunities also lie underground. Mitchell and her students have spent time studying the role carbon dioxide plays in cave geology, which might reveal how caves are formed and how that might link to the aquifer.
"Having a good understanding of the processes that are forming caves can tell us more about the underground environment as a whole," Mitchell said.
She also has worked with SwRI researchers and a student to develop a mass spectrometer to analyze cave air. Their work at Robber Baron Cave was featured on a local television station, and their research paper was accepted by the journal Review of Scientific Instruments.
Environmental Perspectives
A hot-button environmental topic for South Texas residents is fracking, a process of using pressurized fluid to force energy sources from rock. It's also a topic of discussion in Turner's classes.
"This is like the second oil boom in Texas — it's going on right now, not even 100 miles from here," Turner said of the Eagle Ford Shale drilling, which has its share of both supporters and critics.
"There's a term that comes up often in environmental science: NIMBY — Not In My Backyard," Turner said. " 'Energy production is great as long as it's not in my backyard.' 'Waste disposal is great as long as it's not in my backyard.' "
There's no doubt fracking is a boon to the economy and an alternative domestic energy source, he said, but there are environmental — as well as cultural and social — costs.
"It becomes emotional," he said. "The story gets shaped in different ways by groups that have different perspectives." Because of the many perspectives, Turner brings in guest lecturers, such as Brother Brian Halderman, S.M., and Philosophy professor Andrew Brei, Ph.D., to discuss environmental ethics. Historians, too, can teach future environmental scientists to consider the whole picture.
"There's a role for the humanities in environmental science. It's a good place for them all to come together," Turner said.
Reaching Out to Future Leaders
Outreach is a vital part of this program. Faculty members seek to inspire the next wave of environmental scientists through programs like the Earth Science Extravaganza and the Earth Science Museum.
To involve youth, the extravaganza is a popular event bringing hundreds of elementary school children to campus to participate in student- and faculty-led science experiments.
"Students in the program are very engaged … in this outreach program, which builds upon our very successful Fiesta of Physics outreach initiative," Dean Erevelles said.
The Earth Science museum's collection of more than 1,300 minerals, rocks, fossils, maps and scientific instruments will reopen in the spring, highlighting new disciplines and rotating exhibits that showcase the Environmental Science program's work.
"Frankly, there's a selfish motive in that we want to recruit students, but we also want the students to have an appreciation of their surroundings," said Turner, who also visits high schools with the other professors to spread the word about the program.
"We need to help people understand the relevance of earth science and make it more accessible to the average person, so they can have an appreciation for the planet that surrounds them," Turner said.